5 Tips to Style Your Workwear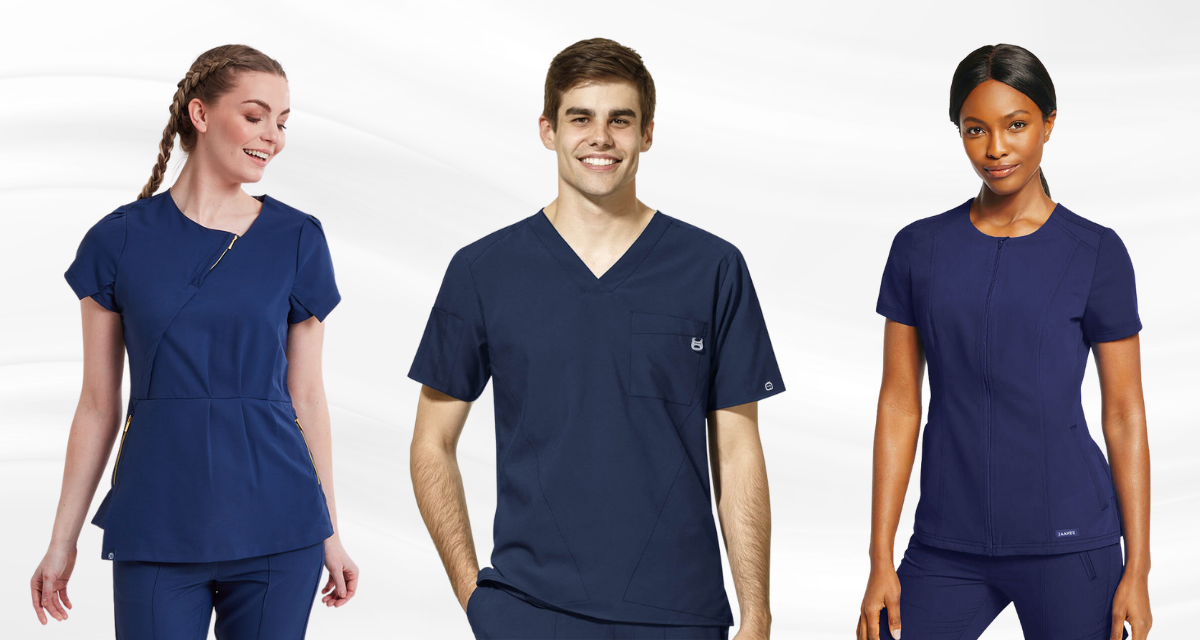 Enjoy 5 tips to style your workwear from Kara! We know that scrubs no longer have to look boxy, oversized and unflattering. With emerging industries, many more people are wearing scrubs, and more professionals are being given choice over what they wear.
Many of us feel as though we spend more time at work in uniform than we do in our regular clothes. Which is all the more reason to ensure your scrubs are stunning. We have compiled some 5 tips to style your workwear and to elevate your look.
No.1 Shoes, shoes, shoes!
We know comfort is key when it comes to footwear for work. However, work shoes & trainers have come a long way in terms of style! Try matching your work shoes to your scrubs, e.g. pale uniforms such as blush pink or white, may look more polished with a white shoe or trainer. Check out our article The best shoes for healthcare workers
Keep a handy pack of wipes or tissues at your workplace to ensure your shoes stay clean, giving you a consistently professional look. As well as ensuring best hygiene in your workplace.
No.2 Accessories
We know this may be job dependant, and most accessories may not be permitted. But where jewellery is allowed, a clean and simple pair of earrings or a watch can  finish off a look. Choose the colour which best brings out your complexion, e.g. silver vs. gold!
Where no jewellery is permitted, you can add a matching scrunchie to tie up your hair for a nice little addition to your uniform.
No.3 Try non iron scrubs
Before getting to styling, we recommend trying non-iron scrubs. The non-creasing fabric is comfortable and durable, as well as staying crease-free all day. This gives you a professional look with minimal effort. Ideal for those who have long and busy days, with no time for ironing!
A uniform that looks neat and smooth gives off a more presentable look, and causes you to worry less about your uniform throughout the day.
No.4 Hairstyles
Longer hair often has to be kept back and tied up, such as in medical and dental practices. However, tied hair doesn't need to equal boring! Clean hair ensures your hair stays back, for hygiene and your comfort. Use holding products such as sprays, mousse or gels to keep your hair back an out of your face, which also looks professional.
You can search websites such as Pinterest for hair inspo! Low ponytails or buns look classic and tend not to hurt the scalp, a great option for long days.
No.5 Colour choice
Before shopping for scrubs, knowing your undertones and complexion can make a difference. Of course, you can wear whatever colour you like. However, some colours may suit us more than others. Read our article Choosing Uniform Colour for some ideas.
Finding your ideal colour can make your skin glow and have you looking your best and healthiest. This can make a noticeable difference!
Styling tips
How you choose to wear your scrubs is a unique process, and you can style your workwear however you like it. These tips are just to help those who are looking to finish off or elevate their work looks. We hope these 5 tips to style your workwear helped or inspired you.
We love to see Kara scrubs on our customers, when you receive your scrubs post a picture of yourself wearing your new scrubs & tag us @karauk_official
All the best,
The team at Kara x
Want to hear more from us?
Try Popular scrubs for 2022, We ask an aesthetics practitioner