Black Friday Scrubs Sale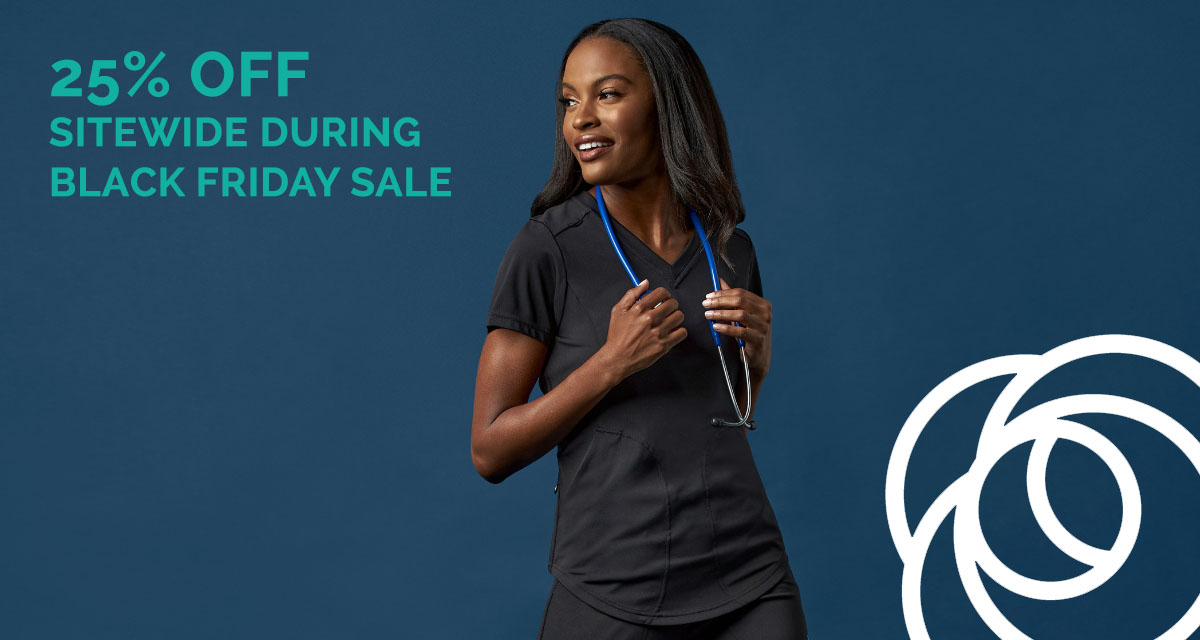 Christmas lights are up, the weather has dropped cold, and Black Friday is just around the corner. This year in 2022, our Black Friday scrubs sale is better than ever! With the launch of our very own scrubs collection this year, we wanted to treat our customers to 25% off sitewide, with up to 75% off current sale items.

If you have had your eye on a scrub set for a while, now is the time to make your online basket a reality. What better way to start the new year than with a brand new set of stunning scrubs.
UPDATE: The 2022 Black Friday sale is now over – but you can still get some bargains in the Sale
Not sure where to start?
We understand. Shopping for scrubs can be confusing and requires a lot of scrolling! We are simplifying the scrub buying process for you. Whether you work in medical or dental, beauty or veterinary, we have scrubs for you.
Continue reading for a quick and easy guide to finding your perfect workwear. Simply find the feature you are looking for, and find our recommendations.
If you like…
Details
If you are a lover of stand out workwear. Maybe you enjoy exposed zips, interesting necklines or princess seams. We think you will like:
Pockets
Plenty of pockets is always a bonus with workwear. Perhaps you always have your hands full, and need the extra storage. See our top picks for scrubs with storage!
Necklines
Whether you like a classic V neck, or prefer something softer, we have a range of necklines to flatter your figure. Try a curved neck, Y neck or stick to your classic V.
Comfort
We all know that comfort is key, so why should your uniform be any different. If you're looking for stretch fabric, comfortable styles and a relaxed fit. Look no further.
Mix and match the styles online
If you're thinking of buying your next scrub set from our Edit range, you can mix and match the style online. Head over to the Scrub Builder and see what the tops and trousers look like when worn together.
Black Friday scrubs at Kara
We won't be using a code for our Black Friday event, so that you can shop fuss free without worrying about a code that doesn't work! All items will be reduced by 25% sitewide, including items already in the sale. Where you can enjoy discounts of up to a whopping 75%.
We hope you find some new workwear that helps you face every day with confidence. We always love to see our scrubs being worn and loved, so if you are loving your new look, please post a picture on Instagram and tag us @karauk_official here.
Want to hear more from us?
Try Kara E-gift cards, Scrub hats for healthcare professionals