5 Black scrub tops we love this season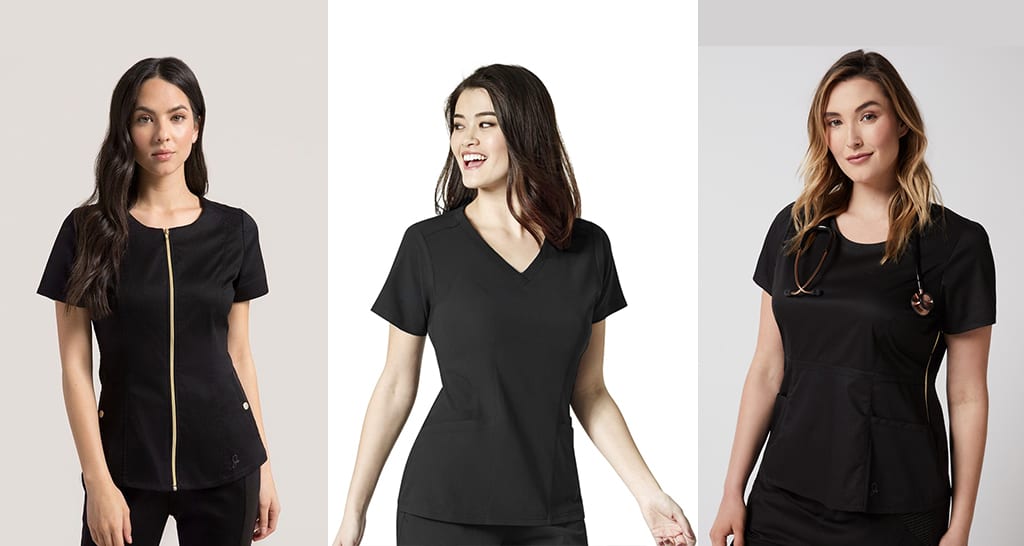 Everyone's a little partial to a black scrub top or two and who can blame them – they look great! In addition, they also absorb heat, making this colour a must in the workwear wardrobe over the winter months.
Other key features of wearing black include:
Black pretty much goes with anything – so need to worry about any wardrobe mismatches.
It can hide a multitude of stains – so if you have a messy job then black is right up your street!
Suits any skin tone.
Suitable to wear all year round.
Figure-flattering.
Not only is black practical, but it can also fit in well within the workplace – maintaining a professional look in front of clients and patients. Many of the ranges listed below do offer men's black scrub tops too, so if you're looking to complete the look for your whole practice or clinic, then rest assured, we've got you covered.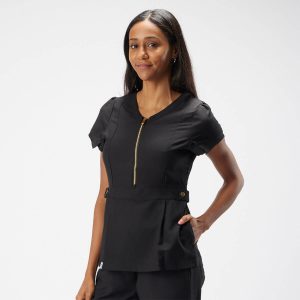 No.1 Amor Zip Top
Ideal dental, aesthetics or beauty salon uniform.
Our Amor zip top is ideal for those who value style and fashion with workwear. The flattering princess seams with gold zips look great, while the motion stretch fabric ensures comfort.
Learn more about this top here.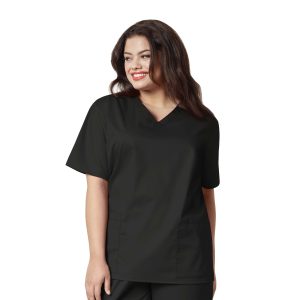 WonderWORK Women's V-Neck Top
In stock in all sizes
Our best-selling WonderWORK range is highly functional but flattering too. This scrub top is machine washable up to 60 degrees and features motion stretch fabric for ease of movement and comfort.
Click here to learn more about this top.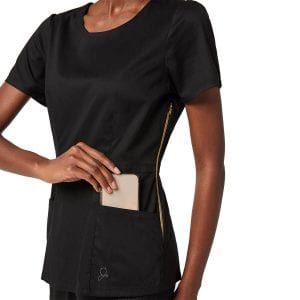 Jaanuu Peplum Top
In stock in all sizes
The popular Peplum Top from Jaanuu is designed with a beautiful flattering fit and detail along the seams to enhance the waistline.
Click here to learn more about this top.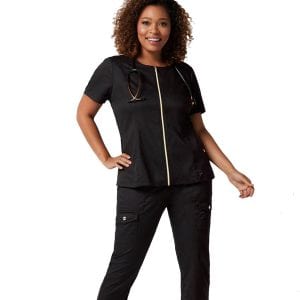 Jaanuu Biker Top
In stock in most sizes.
Again, this is a beautiful black scrub top and finished with some beautiful detailing including a gold front zipper and gold buttons.
Find out more about this top.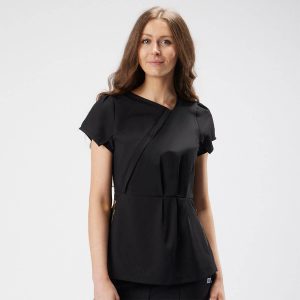 No.2 Novus Asymmetric Top
Unique scrub top for dental and aesthetics.
If you're looking for a fitted waist with stylish hardware, the Novus top is fashion forward and stands out. Functional and stylish with side pockets and motion stretch fabric.
Learn more about this top.
Want to hear more from us?
Try Looking for vet tech scrubs? Our guide to choosing the right scrubs, We welcome the new Jaanuu range, Need an extra layer? Try V neck scrub jackets, Dental myths debunked by The Foodie Dentist