Build your own scrub set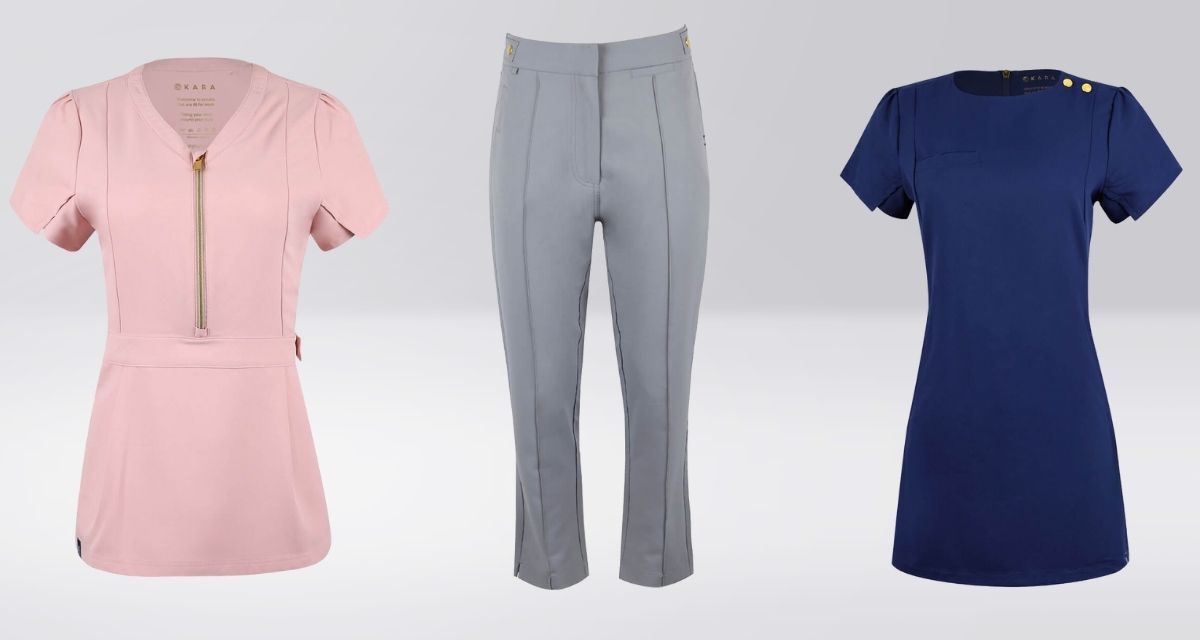 Ever wanted to really see your new scrubs before you buy online? We at Kara have heard your pleas and created a handy scrub set builder! Mix and match pieces from our fabulous new Kara Edit range of scrubs. See how your new uniform will look as a full outfit before you add them to the basket.
How does it work?
We have put together all of our individual Kara Edit products, so that you can select any top or trousers to make a complete fashion forward uniform. Simply browse through the different styles & colours, then choose your top and trousers. Then, ta-da! you can see how your scrubs will look together without the hassle of ordering and trying on.
Simply have a click through all the items and colours to make a scrub set, selecting your sizes as you go to see what is in stock.
Our Edit recommendations
While our whole range works well together, and no matter your personal style and workwear preferences. Our Edit range will have you looking and feeling fantastic at work. Our team have some personal favourite combinations of Edit pieces to share with you.
Charlotte recommends
"The No.1 Amor Zip top & the No.5 Magna joggers compliment each other so well, and especially in black they look so classic, clean and modern. The front zip of the top and drawstring of the joggers make them easy to put on and comfortable to wear". 
Elisabeth recommends
"The blush colour looks so professional but also stands out in these styles. Love the unique zip and silhouette of the No.2 Novus top. The No.7 Fortis trousers are unique compared to other scrubs and have a very smart and tailored finish". 
Nicola recommends
"For me the navy colour is the perfect blend of classic & professional while still being flattering to so many skin tones. The easy and effortless style of the No. 3 Motus top fits amazingly with the No. 6 Opus straight skinny cargo trousers."
Lydia recommends
"The No.4 Vita tunic is so comfortable yet so flattering. The subtle silhouette flatters everyone that wears it. The No.8 Animus leggings pair perfectly with it. They are also so versatile as leggings, for comfort, work and gym. The longer length of the tunic is ideal for those who want more coverage."
Charlie recommends
"The grey colour looks great on everyone, as well as highlighting all the great features on the No. 10 Ordo trousers particularly, such as zip pockets. The stylish V-neck of the No.9 Utilis top flatters all. The effortless style of this mens set never fails to impress. Modern, classic and timeless".
No matter which of the Edit pieces you love, you will be able to find a scrub set to suit you. Take a look at our recommendations or go straight for your personal style. Buy scrubs you will love. We hope you love the scrub builder, happy shopping! Love, Kara x
Want to hear more from us?
Try What Cat the Vet thinks of our brand new vet workwear, Which scrubs are right for me? Scrubs for medical students, Popular scrubs for 2022