6 of our favourite grey scrub sets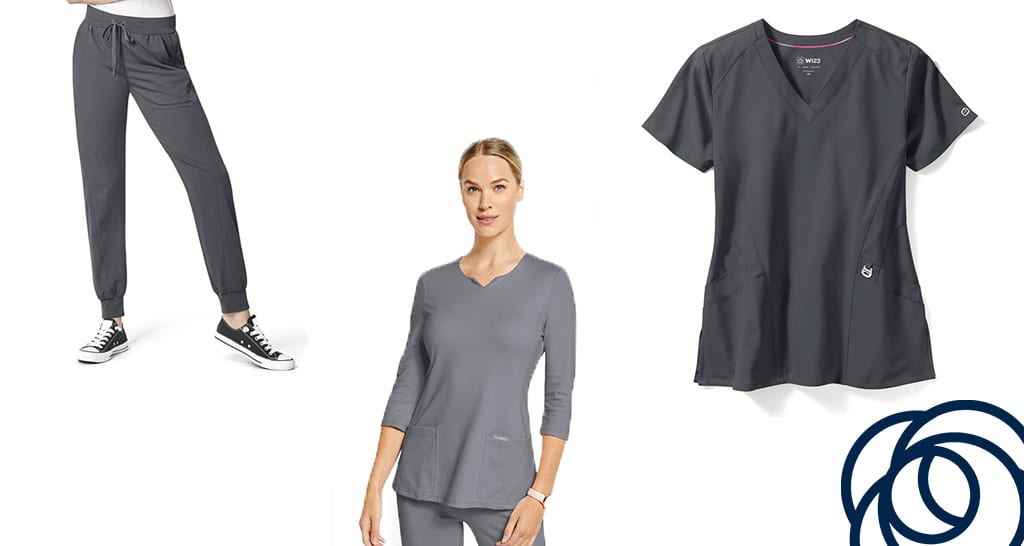 Grey scrub sets are very popular for so many reasons. With beautiful neutral tones, grey scrub sets can be worn in both winter and summer as a softer alternative to black.
Dependent on your workplace, choosing grey as your scrubs set can provide a calmer, more subdued look to benefit both your colleagues and patients.
The colour grey is very flattering as well as versatile. It can be worn alongside other colours, should you wish to swap your scrub top. Teaming your grey scrub trousers with a soft pastel scrub top make the perfect addition and a pop of colour in the summer months.
With grey scrub sets being a popular choice here at Kara, here are our top 5 faves:
No.2 Novus Asymmetric Top & No. 7 Fortis Tailored Trousers
From our in-house range, the Novus top are uniquely styled, with functional side pockets, hidden gold zips and an elegant fitted waist. The Fortis trousers are a tapered and skinny style, with an elasticated waist and multiple pockets.
 2. Jaanuu 3/4 Sleeve V-Neck Top & Jaanuu Women's Slim Fit Moto Trousers in Grey
The latest additions to the Jaanuu range includes super comfy material which has a four-way stretch fabric, is wrinkle and fade-resistant as well as having one of the most technically advanced antimicrobial finishes.
3. WonderWink Aero Women's Flex V-Neck Top & WonderWink Aero Women's Cargo Jogger Trousers in Pewter
Pewter, being a slightly darker grey colour, is very flattering and practical.
The Aero range is made of a super lightweight blend of 76% polyester, 20% rayon and 4% spandex, giving you comfort, stretch and versatility.
4. Wonderwink W123 Women's Mock Wrap Top & W123 Women's Flat Front Cargo Trousers in Grey
The grey colour in this range is a softer tone but is also available in the darker grey – Pewter. The W123 range is hugely popular with medical and dental staff due to its versatile construction being shrink-proof, fade-proof and wrinkle-resistant.
5. Wonderwink WonderFLEX Women's Notch Neck & Flare Trousers in Pewter
WonderFLEX scrubs are made up of a polycotton fabric blend with added spandex to create a premium stretch material, which provides a high level of flexible comfort.
6. WonderWORK Women's V-Neck & Cargo Trousers in Pewter
If you are looking for a grey scrub set, which is machine washable up to 60 degrees, then WonderWORK is the perfect choice. In addition, this premium scrub set features a motion stretch fabric for improved flexibility.
In addition to the 5 grey scrub sets mentioned above, we have a further range of grey scrub sets available for both men and women:
Click here to view women's grey scrub sets
Click here to view men's grey scrub sets
Want to hear more from us?
Try Back to business for the hair and beauty industry, Our favourite jogger scrub sets you'll love this summer