How should women's scrubs fit – Our guide
You might be used to baggy, unflattering scrubs at work, however, times are changing. Appearance is vital to maintain a professional look in the workplace, not just with patients, but to your colleagues and how you perform.
We look at how should women's scrubs fit below:
Baggy scrubs are not only unflattering but they can actually get in the way of you getting your work done. They might catch on something when you're carrying out some vital work with a patient – which isn't ideal if it is an emergency.
Finding a pair of scrubs that fit you well can be a little challenging as there are so many different styles on the market and fits that suit a whole manner of body shapes.
Comfort
We all like the idea of wearing pyjamas to work but they need to be practical too. Comfort is definitely key, but you don't want them to be so loose that they get in the way, nor do you want them to be too tight. We offer a number of different fabric types to cater for those who require a little more stretch in their movement and of course comfort.
Room for layers
Have you considered layering up in the colder months? Many healthcare settings can be cold so it is important to bear that in mind should you need to layer up.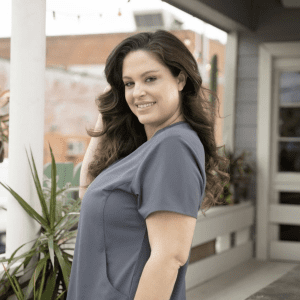 Are scrubs supposed to be tight?
Let's face it, if you can't move around in your scrubs easily then something isn't right. It can seriously affect how you perform at work and even at times prevent you from carrying out certain tasks if you are so restricted with your movement.
When looking at buying a new pair of scrubs there needs to be enough room in them for you to move easily without them being baggy.
How should scrub tops fit?
When you're working with patients all day and moving around regularly you definitely don't want to be distracted by what you're wearing.
There's nothing worse than an ill-fitting scrub top that is so tight that it's uncomfortable or shows your underwear.
The best thing to do is check your measurements before making your purchase. Then you know what to expect and it is more than likely going to fit you well.
A couple of tips:
– Can you reach above your head and your scrub top stays in place? If your midriff is showing when you perform this movement, you might need to look at other options.
– Is your top tight around your underarm area? If there is tightness, it is going to be uncomfortable on those long shifts and restrict your movement.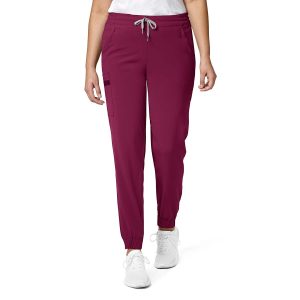 How are scrub pants supposed to fit?
If your scrub pants drag on the floor they are not only a safety hazard, but they're also a hygiene concern. It's important that the length of the scrub trousers fit you well.
You don't want them falling off your waist when you bend down either – this is where a good elastic waistband and/or a drawstring waistband to keep them in place is essential.
Here at Kara, we offer a wide range of women's scrubs with a variety of fabrics, styles and colours to suit the needs of your personal style and workplace. Do take a look at our range finder which will help you to work out a collection that will be most suited to your needs.
Want to hear more from us?
Try Kara donates scrubs to nurse visiting Congo, Introducing Kara scrubs – the edit range