Meet Danielle, vet surgeon from Liverpool Vets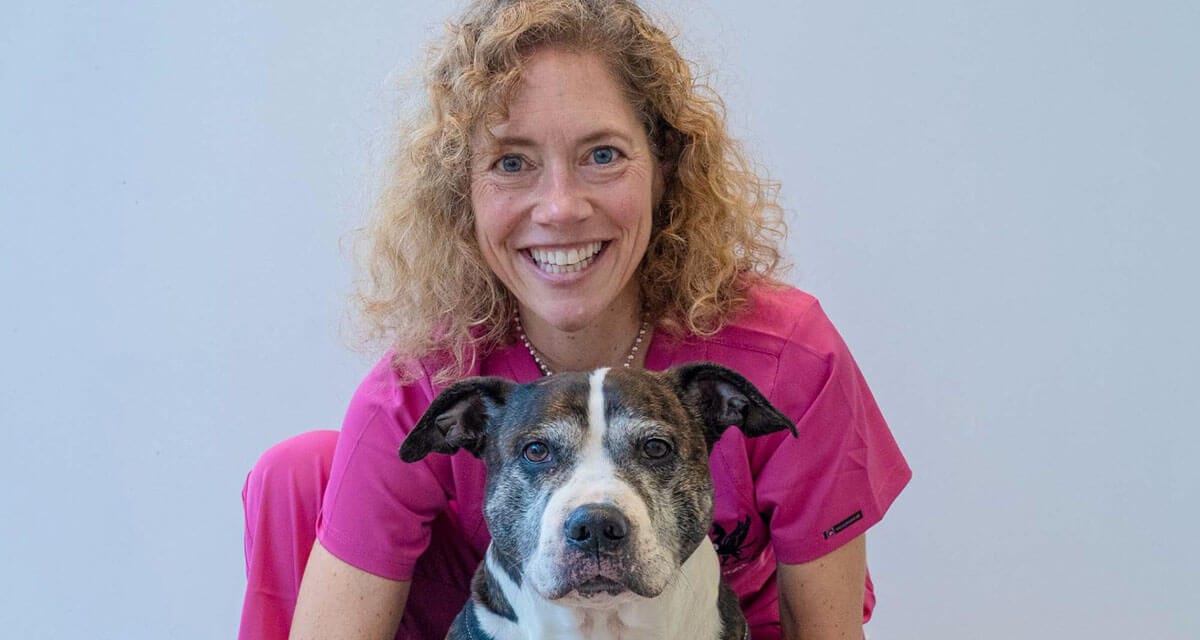 Danielle Greenberg started her career in veterinary over 20 years ago and has been working as a vet surgeon ever since. After a corporate took over the vet practice she was working at, she was inspired to start her own independent practice, offering a more personal and community driven service.
Despite suffering some major health setbacks, she persisted with her dream and opened her first independent clinic, The Liverpool Vets, on 23rd November this year.
Read about her inspiring entrepreneurial journey below.
How did you get into veterinary and how long have you been in the industry?
I have been a vet for 20 years. It was honestly the only thing I ever wanted to do or be. Unfortunately it took a long while to get there as I flunked my GCSEs and ended up doing a degree in History. I worked during all my uni holidays with animals, becoming a horse riding teacher and at vets, then took all the science courses I needed after graduating, to eventually get into vet school.
What inspired you to start The Liverpool Vets?
Ideally I had wanted to join a traditional veterinary partnership, but when the practice I worked at was bought by a corporate, who then bought all but 2 of the independent practices in Liverpool, I realised that there was a niche in the market for an independent practice that was really personality driven as the corporate takeover had caused lots of staff changes. I started looking for a suitable premises early in 2016 but was diagnosed with a tumour and underwent major surgery that left me struggling to walk, and I didn't work for 8 months.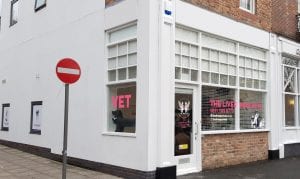 In December 2017, I decided I was well enough to put my dream back on track, and in March 2018 I found a shop which had been a hearing aid clinic, so the layout was already there, meaning a big reduction in the costs of refurbishing to a veterinary clinic. The shop is located in the middle of Liverpool city centre where the residential population is increasing hugely, and with it, the number of pets living in town. I felt there was an opportunity to provide a service for this growing community. We opened on 23 rd November 2018.
What has been the most challenging aspect of launching a new business?
The most challenging parts of the process have been finding the funding. The banks have all declined me, and the loan companies, so I've had a very tight budget, my savings and careful use of credit cards. Running the project has been stressful, sourcing equipment that's ex demo and constantly comparing prices. Just an x-ray machine costs nearly £20,000! Then there's been running the building work when I know nothing about building. My lovely builder tragically and unexpectedly died just a couple of weeks before we were due to open.
He was the one person who had helped me the most as I'd had a couple of quotes to do the building work I couldn't afford and he changed things around so I could manage to pay for it, though I spent a lot more time in B&Q than I thought possible. Also designing a website and running a social media campaign, whilst running a family. I didn't sleep very well for about 2 months and felt sick all the time. Probably those feelings were the most difficult part of all.
You also work with numerous charities, which is amazing. Tell us more about the charitable work The Liverpool Vets offers and what inspired you to offer your services to the community?
Whilst I was ill and not able to walk I wondered what I might be able to do so I contacted Jan at Care For The Paw, a charity that gives out food and clothing to the dogs belonging to homeless people in Liverpool and asked if they ever needed a Vet. She asked me to put in microchips, so I started sitting outside the Bombed Out Church in the city centre with the team and doing a little. I couldn't go on outreach delivering food etc as my walking was so bad. But eventually I became stronger and now I go on the outreach too. We now have a team of vets. I also helped the University of Liverpool Vet school students set up their own clinic for dogs belonging to vulnerable people, Trusty Paws, and have helped at their clinics too.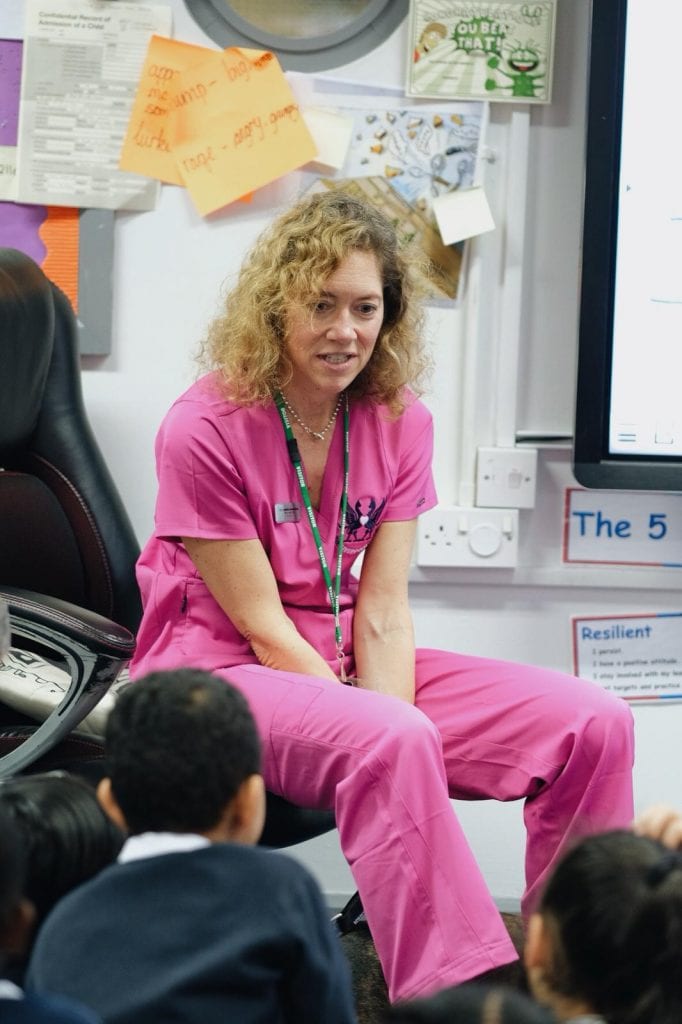 I also set up the Merseyside Dog Safety Partnership in 2014 after many years of being asked to put dogs to sleep by the Police for biting people. I worked closely with the Police collecting data to help us understand how and why people, especially kids get bitten, Particularly in our city. We now have a huge group of police, vets, doctors, dog wardens, royal mail, guide dogs, charities, university epidemiologists all working together instead of separately on the cause.
What advice would you give to someone looking to start in veterinary or transition into the industry?
Advice? Wow, you need to go in with your eyes wide open as its not as lucrative as you might think. A recent study of the earnings of women graduates put veterinary degrees in the bottom 5! Its not just about academic success at school, to be a good vet you have to be a great team player and be able to step back in a crisis and collect your thoughts. You also have to be resilient. There's a lot of pressure looking after people's animals, especially when it's not clear whats going on and the bills are mounting. Having said that, other than being in Destiny's Child, I wouldn't choose anything else. Its certainly a degree that offers you endless possibilities to gain and keep work, as a vet or in many other related industries and as a working Mum, that's been a wonderful thing.
What is a common misconception people have about being a vet?
That we earn a lot of money!!
How important is having a good uniform for your job?
As a petite female, finding flattering, well fitted not run of the mill work wear is really important to me. I love fashion, and as the boss of my own business I was determined to show my clients that I could be both professional and smart without looking like all the vets they'd seen before.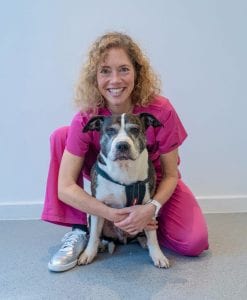 I started out buying a really beautiful Hobbs navy jumpsuit but realised whilst at the dentist with my daughter that wearing scrubs gives clients reassurance, an understanding without saying anything, that you've studied and passed your qualifications, that you are ready and able to be the reliable medical professional the client is paying to see. I could also go to the loo and let muddy pups jump on me more willingly than in an expensive jumpsuit!
"I absolutely love my WonderWink scrubs, the top is perfect, a flattering shape, just the right length, deep pockets and a material that pet hair amazingly doesn't stick too."
I absolutely love my WonderWink scrubs, the top is perfect, a flattering shape, just the right length, deep pockets and a material that pet hair amazingly doesn't stick too. It took a bit of getting used to the material but now I love it. I do wish that the bottoms were tapered though as my socks always seem to be on show when I'm crouching or bending down to a dog or cat. They wash really well too.
Follow Danielle and her team at The Liverpool Vets on Instagram
Want to hear more from us?
Try Meet Antionette, senior nurse turned aesthetician, Interview with Yvette, aesthetics nurse, 387 vets talk about their vet uniform