Meet Sarah Louise, Aesthetics Specialist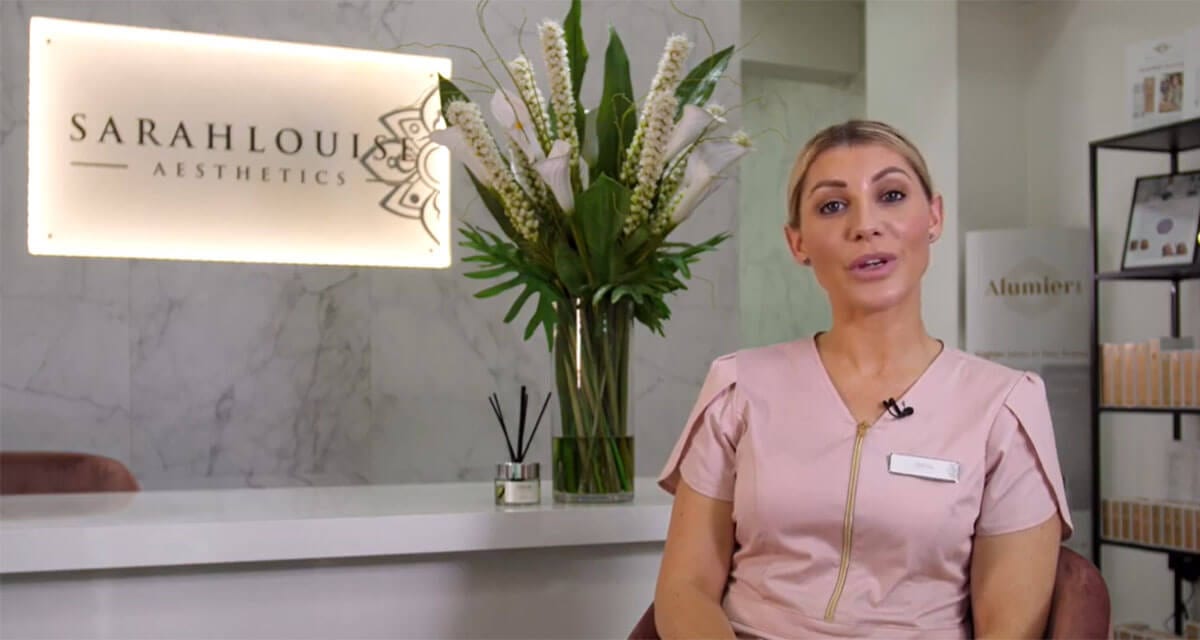 After making the move to England from Australia, Sarah Louise saw an opportunity to bring high standard cosmetic treatments to the public. With six years experience in aesthetics under her belt, she launched her own clinic, SarahLouise Aesthetics, two years ago in Manchester.
Since then, her clinic has built a reputation for providing outstanding aesthetic work and patient care so it's no surprise she has quickly gained a large following and list of clientele.
We chat to her about clinic life, tips for social media and business aspirations for the future.
When did you start becoming interested in aesthetics?
I graduated nursing and specialised in plastic surgery; it was then I developed a keen interest for non surgical aesthetics. Being apart of surgical facelifts and endoscopic eyebrow lifts facilitated a greater understanding of anatomical landmarks, enabling me to competently provide treatments safely and effectively. I knew if I could provide treatments to our patients, we would be delivering a holistic approach to our patient care.
What made you decide to start your own clinic?
It was moving to England from Australia that pushed me to open my own clinic. It was the restricted availability of high standard clinics available to the public. I wanted to share my knowledge and skills to other health professionals and enable a safer delivery of care within aesthetics. I have a mission to create safe, ethical, clean and comforting environments for patients where they know they will receive high standards of care, delivered by competent and confident health practitioners that are governed by clinical safety standards. I plan to franchise our clinics and enable other practitioners to deliver our philosophy and give the public greater access across the UK.
What does a typical day in the clinic look like?
Our clinics are quite busy however they run smoothly. Our admin team arrive earlier to set up the clinic, everything from candles burning, coffee machine prepped and TV screen scrolling through our website. Our practitioners arrive to a morning talk where the scheduled day is organised and a brief chat about what they would like to achieve. After our clinics cease the admin team completes notes, makes orders, cleans the clinic and closes down ready for another busy day ahead!
How many clients do you on average see per day and do you have a regular client type or a real variety people coming to see you?
We range from around 10-30 a day. We have a lot of regular patients, and we consistently aim to maintain these patients through a positive and enjoyable experience. A lot of our new patients are from word of mouth or recommendation. We do not advertise or spend money on marketing as we believe our patients are led to us through existing patient satisfaction and social media.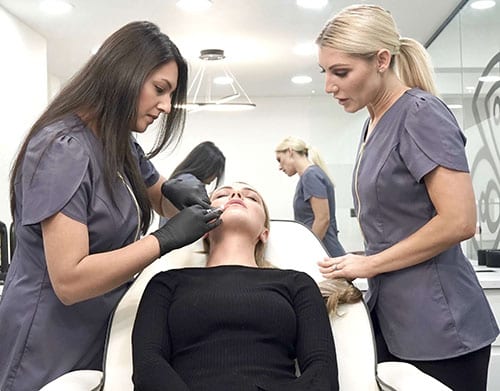 How do you manage client expectations when it comes to certain procedures?
This is always been a difficult task as our procedures are completely elective and are not a requirement. Therefore, when a patient presents to us for a procedure we are always extremely honest about the need for the procedure. To many times in this industry we see practitioners completing a procedure for financial gain. This is not what we stand for, we are about establishing a need for a treatment and choosing a suitable approach. If our patients expectations are realistic we are able to provide safe and effective outcomes. Patient education is the most important part of maintaining expectations, if the patient understands the process of how ageing works and the treatments to correct or improve their concern, then we are more likely to have happy patients.
What's your most popular treatment or procedure?
Majority of our business is completely mixed. We do a lot of everything. Anti wrinkle injections have always been steady however more people are wanting to improve their facial volume, increasing the amount of facial filler we now do. Our mid face rejuvenation is one of the most popular filler treatments. As it targets so many anatomical structures, the outcome is extremely powerful yet subtle in a natural way.
What advice would you give others considering this field?
I would always say become an expert! To do this research, read and quiz others about their practice. Invest in your training and ongoing mentoring! Always learn and have a desire to improve. I am still learning and I will never claim to know it all. Find a mentor and follow them, copy them, indulge in their philosophy. Injecting a is easy, however, producing outstanding results is hard, and knowing how to address facial harmonisation is vital to becoming an expert injector.
Invest in your training and ongoing mentoring! Always learn and have a desire to improve.
You've got an impressive following on Instagram, how instrumental has Instagram been to acquiring new business?
Social media is a driving force to modern business. It provides an extensive platform for patient engagement. Our generations are changing and their demands are becoming increasingly targeted. People want to watch rather than read, and have instant access to information and knowledge at the touch of a button and screen. People are far more educated today with the internet therefore, doing what everyone else does will not ensure you become the pinnacle of your environment. You must create new content that's exciting and constantly engaging them into your world. What may be boring for you might seem really interesting for others. Without these elements your business will not progress in an ever changing environment.
Do you have any tips for other clinic owners on how to boost followers and engagement on Instagram to help drive more business?
Share, share, share! Share what you do, share what you know, and share your success. Don't be afraid that someone will steal your idea or your technique, because if you're great at what you do inside your clinic, then your patients will never leave. Don't be threatened by other social media influencers, engage with them, ask them tips and collaborate with them to widen your social media platform.
What are your long term goals for SarahLouise Aesthetics? Do you have plans on opening up new clinics?
Yes, we have big aspirations for SarahLouise Aesthetics. We want our brand to become known throughout the UK and beyond, for safe, ethical, clean and comforting clinics that are accessible to the general public. We want people to know they can walk into any clinic across the country and expect a high level of patient care that is consistently empowering our philosophy and brand. We don't want people to feel they are not good enough or the clinic are too pretentious, we want a welcoming feel that everyone should have the freedom and ability to have an aesthetic procedure without judgement.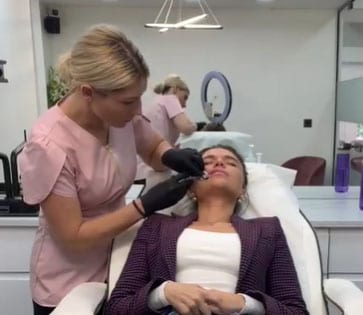 Follow Sarah Louise on Instagram
Why not read more from us?
Try Meet Arleana, registered nurse & aesthetician, Meet Antionette, senior nurse turned aesthetician, Interview with aesthetician Becky