We welcome the new Jaanuu range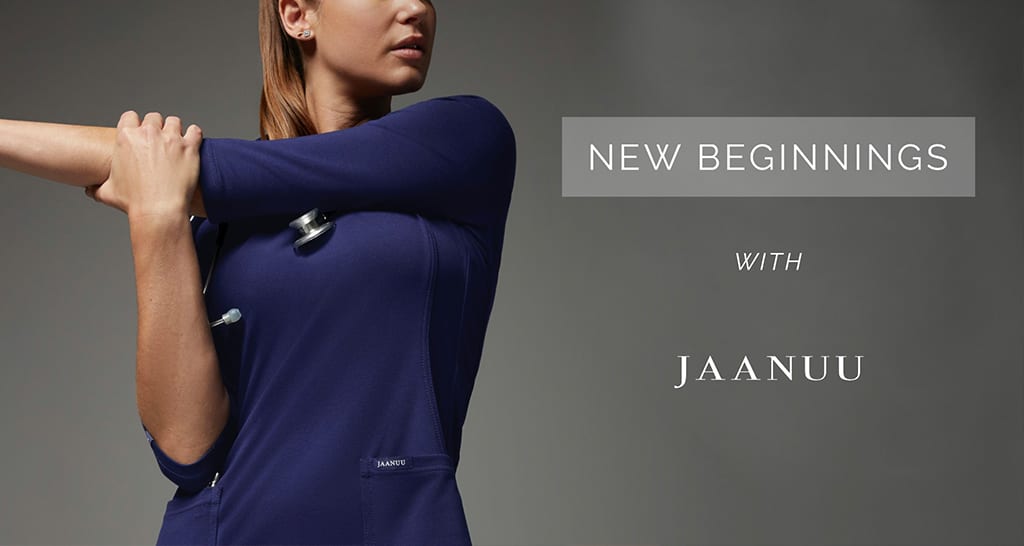 Have you heard about the new Jaanuu range? It's finally arrived at Kara and we absolutely love it.
Obviously, we're a little partial to this brand which brings innovative style to any professional or clinical workwear – particularly Dental Uniforms UK. But really – the styling has been pushed an extra mile with this new range. Read on to learn more.
Jaanuu has a new mission – to inspire you to perform at your best. The designers have studied Jaanuu customers and have been focused on designing the range to meet these demands.
The range of Jaanuu scrubs has been totally transformed to be technologically advanced and functional, along with an abundance of pockets and a modern style.
It's all about the fabric
Jaanuu's new technologically advanced fabric, FUSEryx™ brings a whole new meaning to scrubs. Its 4-way stretch construction is not only comfortable, it's incredibly durable too. In addition, their amazing new fabric gives you:
Advanced flexibility and mobility whilst maintaining a professional structure
Treated with Silvadur™ antimicrobial finished technology for enhanced protection – read more below to find out about Silvadur™
Wrinkle-Resistant
Fade Resistant
Feature-rich
All of the products in the Jaanuu range are fully functional, so if it's extra pockets you're in need of – there's a plentiful supply!
The range
Kara are pleased to introduce the most popular Jaanuu lines from their new range which include styles for both women and men. They are in stock now and available for immediate delivery.
What is Silvadur™?
Silvadur is an antimicrobial technology that far exceeds previous antimicrobial technologies, providing protection against bacteria, mould, mildew and other hazardous microbes. It has "excellent wash durability and a high level of reproducibility" which basically means that your workwear will last longer and will be super fresh after each wash.
Don't just take our word for it, take a look at the latest styles in our store now.
Want to hear more from us?
Try Find a workwear style that suits your body type, Interview with The Brow Artisan