Some customers find that this item is sized a little small
We recommend that you buy the next size up
Classic fit, V-neck top with multiple pockets
Hip patch pockets with additional side entry pockets
Chest patch pocket including penholder
Easy care motion-stretch fabric with splash resist & pet hair friendly
No. 9 Utilis Mens Top
Available in sizes
XS

-

XL

BrandKara Edit SKUSS220

View size guide
Sizes in cm
| | | | | | |
| --- | --- | --- | --- | --- | --- |
| | XS | S | M | L | XL |
| Chest | 102 | 108 | 112 | 116 | 122 |
| Waist | 100 | 103 | 108 | 114 | 120 |
| Back length | 66 | 69 | 71 | 75 | 77 |
Sizes in inches
| | | | | | |
| --- | --- | --- | --- | --- | --- |
| | XS | S | M | L | XL |
| Chest | 40 | 42 | 44 | 45 | 48 |
| Waist | 39 | 40 | 42 | 44 | 47 |
| Back length | 26 | 27 | 28 | 29 | 30 |
How to take measurements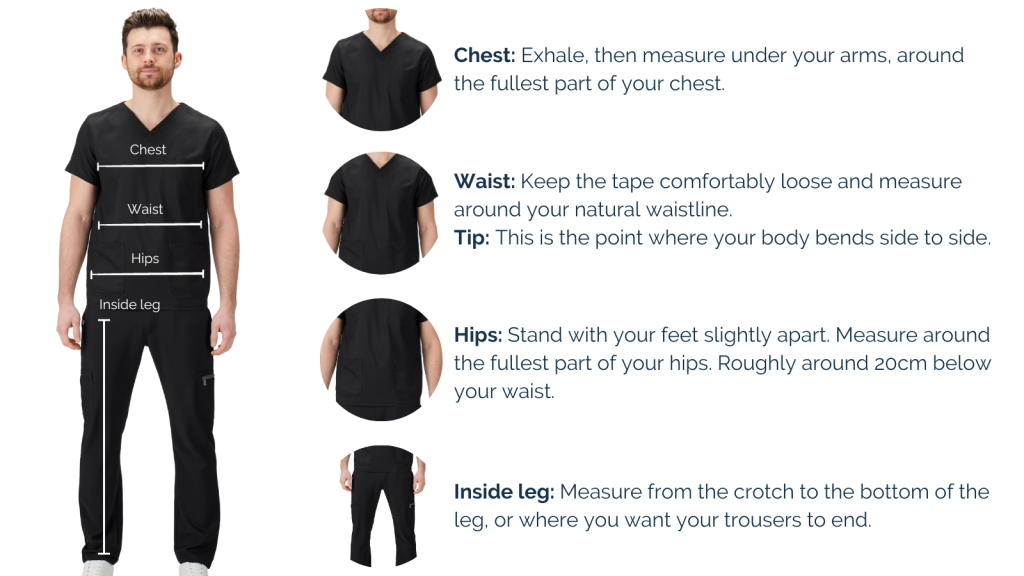 You may find this useful: How to take measurements for scrubs without a tape measure
The embroidery process
Due to the ongoing Covid-19 situation, we are sorry to let you know that we are unable to offer embroidery and personalisation at this time.
If you had already ordered embroidery on your scrub tops before the second period of lockdown in England (which started on 5 November), then our Customer Services team will have been in touch with you to discuss a refund for the cost of embroidery.
If you have any queries please firstly check to see if your question has been answered in the FAQs help area.
Then, if you can't find an answer there, please contact our Customer Services team.
The Utilis mens v-neck top has been intelligently engineered to ensure a great fit and practical helpful details to streamline your workday.
Product Description
The Utilis top is our version of classic mens scrub tops that ensures comfort at work, while maintaining a great fit. Our V-Neck top has been thoughtfully designed with practical & useful details to simplify your workday.
Styling details of No. 9 Utilis V-Neck Top (utilis – helpful)
The Utilis mens scrub tops have a modern V-neck shape, engineered for comfort and performance. The top features a flattering v-neckline and short sleeves. On the front there are multiple pockets on both sides including hidden, side-entry hip pockets for easy access; plenty of storage for all your workday essentials.
About the EditTex Fabric
The EditTex fabric is a motion-stretch polyester which allows for plenty of movement. It's easy care, suitable for machine washing up to 40 degrees. The range can be tumble dried on cool, but also dry within minutes on the line. Although not required due to wrinkle resistance, if you want to iron your workwear, you can use a cool iron. As a bonus for vets and hairdressers, the fabric is also pet hair (and human hair) friendly. Just lightly brush the fabric with your hand or give it a little shake and the hairs fall off. If you sometimes get splashed at work or on your way to work, you'll love the Kara Edit range, as this fabric also has a unique water resistance, so spills just slide straight off.
Product Info
| | |
| --- | --- |
| Clothing Size | XS, S, M, L, XL |
| Colours | Black, Navy, Grey |
| Fibre composition | 100% Polyester |
| Product code | SS220 |
| Gender | Male |
Washing & Fabric care
Wash warm up to 40 degrees. Use fabric antimicrobial detergent if you are concerned about pathogen transfer. Can be tumble dried on cool. Iron on cool setting if required. Avoid ironing logos.
As worn by you