Available in 4 sizes
Provides class 1 mild compression (15-21mmHg)
Below-knee socks
Machine washable
Inspection hole under toes
Latex free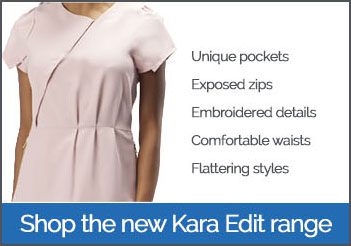 Elite HealthyLegs Compression Socks
Available in sizes
S

-

XL
The embroidery process
Due to the ongoing Covid-19 situation, we are sorry to let you know that we are unable to offer embroidery and personalisation at this time.
If you had already ordered embroidery on your scrub tops before the second period of lockdown in England (which started on 5 November), then our Customer Services team will have been in touch with you to discuss a refund for the cost of embroidery.
If you have any queries please firstly check to see if your question has been answered in the FAQs help area.
Then, if you can't find an answer there, please contact our Customer Services team.
Elite anti-embolism socks apply graduated pressure up the legs to prevent DVT, blood clots and ulcers. Used to aid immobile patients, those with varicose veins and those recovering from surgery.
Product Description
Elite compression socks for nurses are designed to reduce the risk of DVT, blood clots and various aches and pains. They can be used to relieve pain, or better used preventatively. Using compression socks regularly can reduce discomfort, pain and fatigue when standing for long periods of time. Medical professionals such as nurses can benefit from using compression socks. Varicose veins, swelling, soreness and fatigue can happen to health and medical professionals. Wearing compression socks preventatively can aid with muscle recovery by boosting circulation during standing periods. The long shifts can contribute to health issues over time, such as varicose veins.
Providing a medium class 1 type of compression, the Elite compression socks are a balance between comfortable and effective. They are easy to wear, withstand regular washing and are safe to wear for up to 12 hours. Compression socks noticeably reduced fatigue in the legs quickly. No need to worry about the compression pressure on the legs, they are comfortable to wear all shift long. Choose compression socks for work to relieve and prevent symptoms of fatigue and other conditions.
You can also take a look at our HealthyLegs compression socks.
Product Info
| | |
| --- | --- |
| Colours | Hunter Green |
| Clothing Size | S, M, L, XL |