The Kara Edit range design story
The new Kara Edit range is honing and refining medical workwear for the UK market. For generations, scrubs were considered as a simple utility garment, functional while never being inspiring. Many scrub sets have been shapeless, unisex with a colour pallet ranging exclusively from medical blue to surgical green. Although the fundamentals of scrub design remain the same – to allow healthcare professionals to move easily & freely throughout long days – everything else has changed.
Kara began by bringing new US scrubs to the UK market, which brought a far wider selection of colours and variety. We felt however, that there was still a gap for a premium UK scrub range, focusing exclusively on the needs and desires of the UK healthcare market. Our in-house Lead Designer, Alex, supported by the team's extensive market research and 5 years of learnings, has brought to life a range of practical, yet visually fascinating and unique scrub suits. Read below to find out how the Kara Edit range came to life.
Scrub design back story
Behind every great piece of clothing, is great design. Our Lead Designer Alex has seamlessly blended the line between fashion and function in the Kara Edit scrub range. This is a refined, fresh perspective on workwear, utilising insights and learnings from our existing customers'.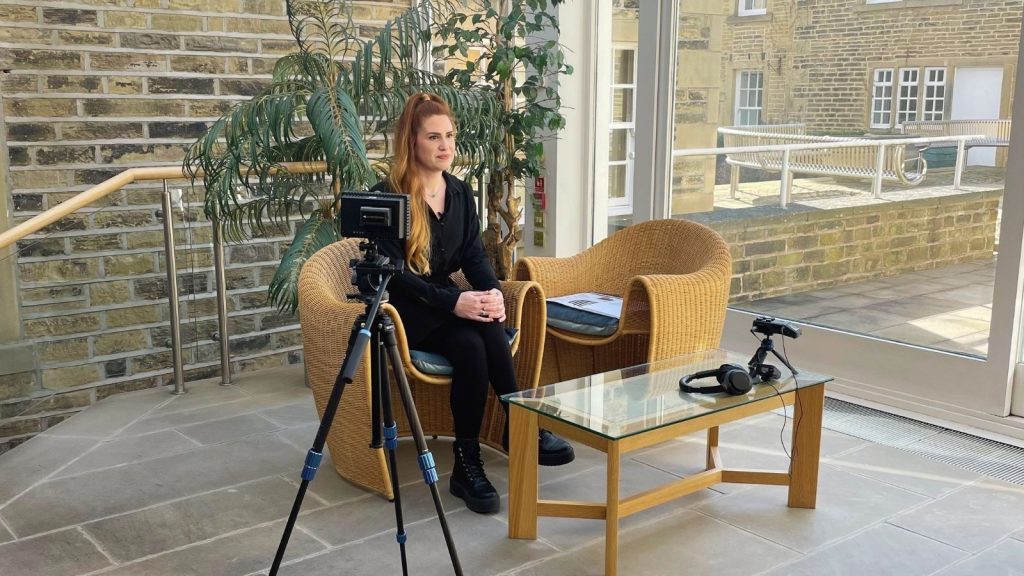 Before working as Lead Designer on the Kara brand, Alex has worked on numerous projects in the UK clothing industry. She has designed and product-developed for both the UK high street and high-end designer brands, giving her a broad breadth of knowledge.
This has provided a deep understanding of current fashion trends whilst still ensuring the designs are always "fit for work". It was vital that the Kara Edit range is stylish without compromising on wearability as the core focus. Designing the Kara Edit range here in the UK was also important to our brand, as understanding the unique characteristics of the market (what our customers do and don't like) was vital. Understanding the missing ingredients in the current UK offering was essential for forming a diverse range of fashionable scrubs which will provide ideal uniforms for our valued customers.

Scrub design innovation
Designing extraordinary workwear is no easy task. There are many design elements that must come together for the complete scrub set. To begin this significant challenge, Alex and the Kara team thought the best place to start, as always, was with our customers. We performed extensive qualitative and quantitative research to find out what exactly our customers wanted from their work wardrobe (as well as what they didn't want).
The main inspiration behind this range was the Kara mantra, 'Fit for Work'. We wanted to ensure that the range remained highly functional for a wide range of healthcare fields while also offering something with a certain "je ne sais quoi", which is a very French expression for a range so quintessentially British! We took inspiration from current trends as well as customer feedback on how they like scrubs to fit, feel and look, including the functionality essential to making their lives easier. Amalgamating all these elements our customers already love helped us to decide on the range name Kara Edit.

This unique combination of function and fashion while mixing the old and the new, has led to a number of creative styling details: Multi-pocket designs, our beautiful gold metallic trims in the zips, snap fastenings and textured, flat-sitting drawcords for a flash of (completely necessary) indulgence!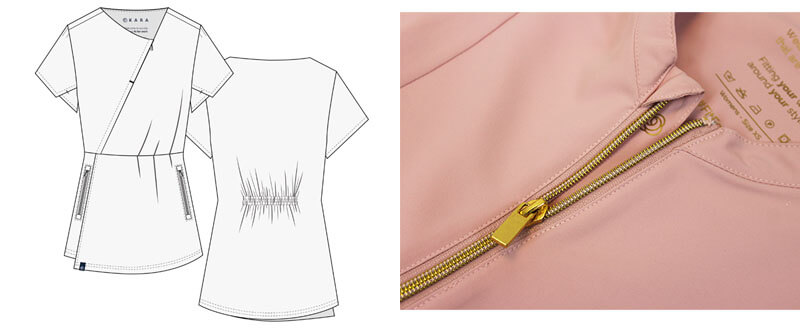 Lead Designer Alex added "The most interesting part of designing this range was really evaluating the Kara brand. Figuring out how best to represent our core values in a designer scrub range. Kara is all about being 'Fit for Work' and we have thread that notion through the entire design process."
Kara Edit
We hope this post has given you some insight into the process of creating a fashionable workwear range; we are so proud of what Alex and our Team have designed and we can't wait to share them with you soon! Lots more details to follow….
Best wishes,
Kara x
Want to hear more from us?
Try Introducing Kara scrubs – the edit range, The Kara edit name origins, Build your own scrub set