Need an extra layer? Try v neck scrub jackets
Whilst scrubs are an essential piece of your workwear, do you ever feel like you could do with an extra layer? Our v neck scrub jackets might be the answer.
Finding a scrub jacket that ticks all those boxes can sometimes be a challenge. The design and material needs to be fit for purpose as well as comfortable.
A scrub jacket is a great choice if you want something to keep you warm during the colder months. Not only does it look professional, it's practical too as it can be worn over your scrubs and provides additional pockets for extra storage.
Unlike a base layer, the scrub jacket can be easily removed – so when things start to warm up – you can take it off easily.
It's worth bearing in mind that when you're choosing a scrub jacket, the fabric needs to be comfortable not just for you – but your patients too. For example if you work with the elderly and your scrubs come into contact with them – you want your workwear to feel soft to touch for their sensitive skin.
We have a range of scrub jackets available including v neck scrub jackets to suit v neck scrubs.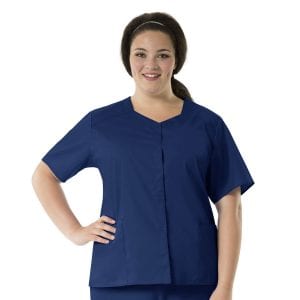 WonderWORK Women's Short-Sleeved Jacket 
WonderWORK is one of our most popular lines in the WonderWink range due to its highly functional fabric. These short-sleeved v neck scrub jackets offer a flexible 4-way stretch and snap close buttons with two pockets. It is available in a wide range of colours to match the WonderWORK scrub range.
Four Stretch Women's Sporty Button Front Jacket 
This scrub jacket has a round neckline and stitch detail for a more modern look. The four stretch range is as described, a four stretch fabric – making them extremely comfortable to wear, especially in those more active roles. The fabric is also moisture-wicking and pet hair resistant. Wear this scrub jacket perfectly with the Four Stretch scrub range.
Other styles of jackets and lab coats:
Find out more about our v neck scrub jackets and lab coats here.
Want to hear more from us?