Interview with vet student Alexandra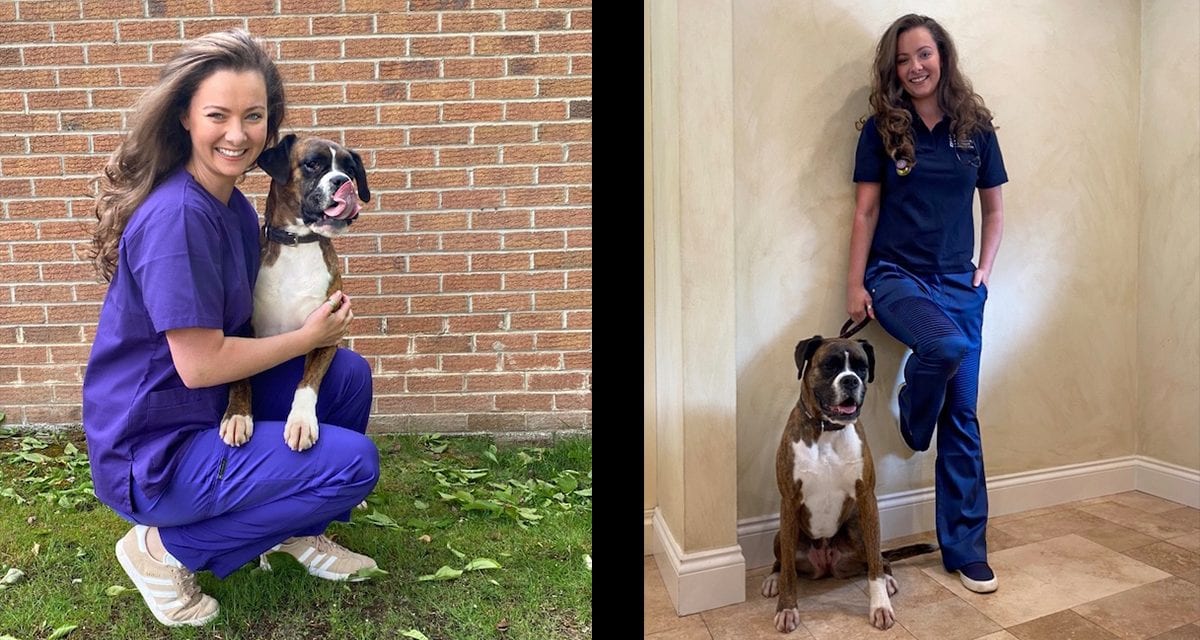 This month we got chance to catch up with vet student, Alexandra to find out a bit more about her aspiring career to be a vet. For her vet student uniform, Alexandra wears Kara scrub pants from Wonderwink and Jaanuu.
Name: Alexandra
Age: 28
Location: Scotland
University: Royal Veterinary College (London)
A little about Alexandra:
So far I've loved every minute of the vet degree. I'm just coming to the end of my third year and we are currently working online but I can't wait until my rotations start and I am able to put some of the skills we have learned into practice.
What inspired you to want a career as a vet?
It took me a while to realise I wanted to be a vet but I think being able to go out and undertake work experience was what really put it into perspective for me. Being able to see the full process first-hand and clients leaving happy at the end of the day really made me understand what being a vet is all about.
What appeals to you about being a vet?
I love the detail of anatomy and the skill vets have to be able to carry out intricate surgery. I want to help clients better understand the process and ultimately keep animals as happy and healthy as possible.
What would be your ideal job after graduation?
I haven't quite decided where I want to end up but I have a great passion for horses and think I would like to pursue a career as an equine vet.
What are the positives and negatives of life as a vet?
I love how much choice and freedom the vet profession gives, working with a range of animals and being able to do it anywhere in the world. It can be a high pressured and demanding job but I've found the vet community as a whole are always happy to offer insight with similar cases and discuss more unusual ones to ensure the best course of treatment for the animal.
As a vet student you need to wear scrubs for your day-to-day work. What do you look for in a good pair?
A good pair of scrubs for me should be light weight and breathable but still a great fit.
What scrubs do you wear now?
I wear Kara scrubs and have done since my first day on placement and now I wouldn't wear anything else. They come in so many great colours and are such a durable material.
Photo gallery:
Want to hear more from us?
Try Interview with a Trainee advanced clinical practitioner, Looking for vet tech scrubs? Our guide to choosing the right scrubs