Why It's Time To Invest In Some New Scrubs
Performing your best and staying motivated at work all starts with feeling confident and comfortable. A smart appearance can inspire confidence so it's important to put on a uniform every day that you feel and look good in. Stylish scrubs are now a priority for many customers.
Kara is a new UK supplier specialising in premium textile products and medical uniforms to service the growing health and wellness sector. We focus on bringing products to the UK market that are not only made from high quality materials and highly functional, but that also bring elements of fashion, comfort & technology to our customers.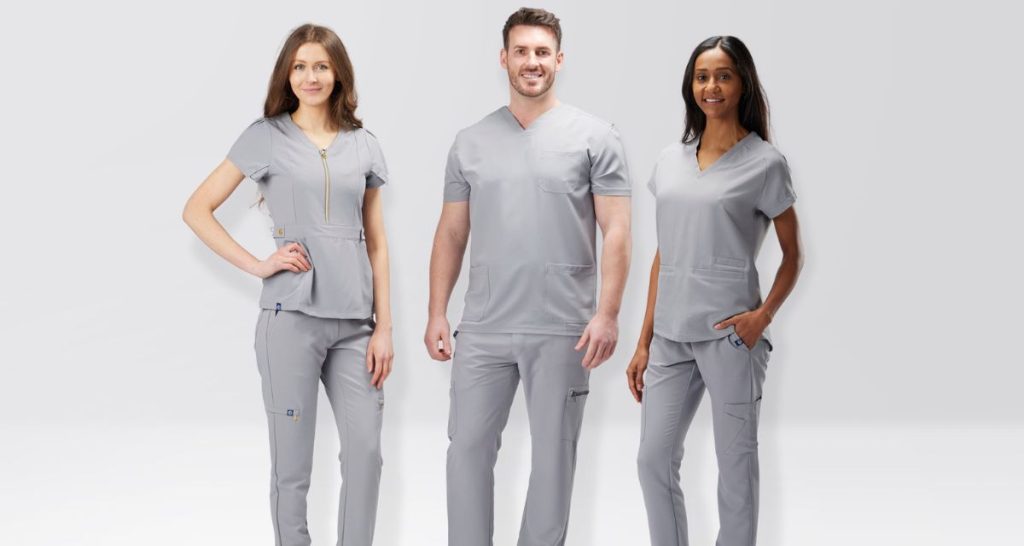 We're delighted to announce that we are now officially the UK's first supplier of cutting edge medical apparel fashion brand Jaanuu. LA based Jaanuu have been creating shakes in the medical healthcare world in recent years by providing contemporary stylish apparel for healthcare professionals across the United States. Our partnership now means that our UK customers can gain access to their exciting range from our online shop. At Kara we provide our customers with a diverse range of scrubs, from Jaanuu, to WonderWink, to our very own range Kara Edit.
Here are some reasons why it might be time to freshen up your professional look.
Make your brand something special
Uniform is an essential part of a brand's identity. It can help to build brand awareness, showcase company values and build trust with your patients. By choosing stylish scrubs that best reflect your surgery's values, you can stand out and make a lasting impression.
Jaanuu has reinvented the medical apparel category with contemporary, runway-inspired fashion. Their collection offers stylish, yet highly functional and comfortable uniforms to help you feel good and look professional. High quality uniforms allow customers or sevrice users to see your service as of the same high quality, and perceive you as more trustworthy.
It feels good to express yourself
A great outfit really can boost your mood, self-confidence, and productivity. Whether you're buying uniforms for your whole surgery or just buying for yourself, it's important to be able to choose from an array of shapes, sizes and colours and express your personality.
Our first goal is to tackle healthcare uniforms, which for too long have been boxy, unattractive and ill-fitting. Trusted industry favourite Wonderwink offers three different ranges with over ten colour choices, to cater to all personal preferences.
Help your patients feel at ease
A trip to the dentist can no doubt be a daunting experience for many, and it's important to make your patients feel relaxed when visiting the surgery. Looking professional can reassure nervous patients and help to build a trusted relationship.
The Wonderwink range provides a perfected fit for both men and women, a meticulous finish, and a focus on small details that take their uniforms away from purely functional to a product that is loved for it's comfort, style and practicality.
Good quality lasts longer
Investing in good quality scrubs is vital when working on your feet all day and often working long hours.
Jaanuu have developed a unique fabric blend for all of their products which they have deemed 'revolutionary'. It's the first range to use a four-fabric stretch blend for maximum comfort and functionality. The addition of cotton and polyester ensures a soft hand feel yet professional look while reducing need for ironing. They also use an antimicrobial finishing treatment to inhibit odor causing bacteria and moisture so your scrubs last for longer. Our Edit range has motion stretch fabric, which is both hair and water resistant, meaning your scrubs will stand the test of time.
Our goal at Kara is to expand our range with brands that offer stylish, comfortable and highly functional uniforms across industries within the growing health and wellness sector. Click here to shop the exclusive Jaanuu and Wonderwink ranges. Or shop UK designed, in-house range Kara Edit.
Looking for more uniform posts?
Why it's time to invest in some new scrubs, Our top 5 best apps for nurses, Meet Danielle, vet surgeon from Liverpool Vets