Your guide: WonderWink range differences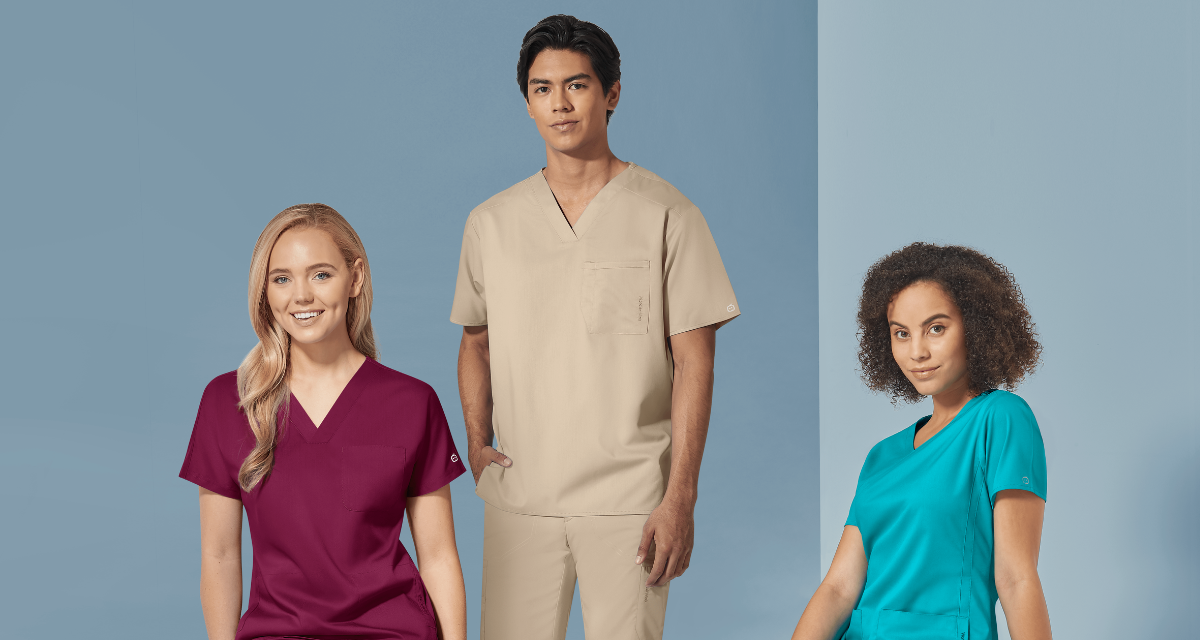 Previously, the UK scrub market was small, and many scrub customers wondered where they could source WonderWink scrubs UK. That problem is now a distant memory for our Kara customers, who can now shop multiple WonderWink ranges quickly and easily.
We supply a wide variety of scrub ranges available here at Kara, so you can find exactly what you like. However, sometimes all that choice can be overwhelming! We know that our customers love WonderWink, so we are helping you choose your ideal range easily.
We explore the differences between each range to help you determine which ones suit you the best. Carry on reading to find your next scrub set.
WonderWink Scrubs UK
Kara brought popular USA scrubs to the UK market several years ago. Since then, the ranges have changed and grown to adapt to customers' needs. We thought we would give you the low down on the ranges and styles you can get from Kara today.
See the handy guide for the focus of each range. Each tick in the chart below indicates which of these elements the range primarily focuses on. Note, the unticked categories does not mean the range lacks any of these elements. But that it simply is less focused on them than others.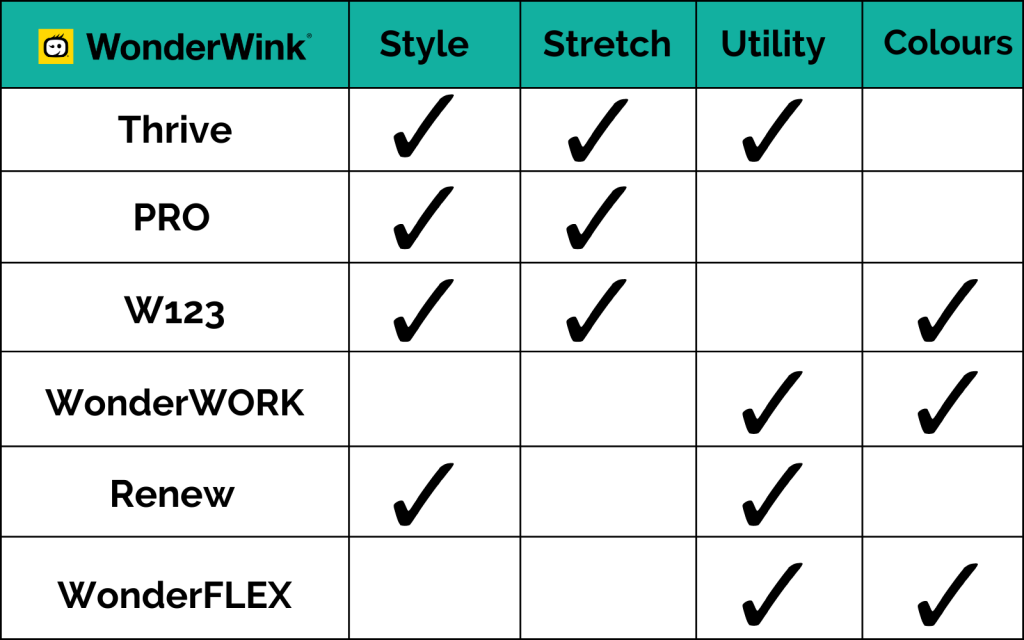 Thrive
Think thrive if you like: Water resist, style, function, fit. 
New to Kara, the Thrive collection features a HeiQ eco dry fabric. Water resistant, stretchy and breathable fabric in trendy and modern styles. Go with Thrive if you value style and substance in one set.
PRO
Go PRO if you like: Modern, timeless, simple, comfort.
The PRO range is "designed to work". Focusing on classic and professional fabrics and silhouettes. The comfortable, stretchy fabric gives you freedom of movement all day long.
W123
Work with W123 if you like: Variety, quality fabric, style, comfort.
W123 provides variety and style, you can find V-neck tops, jogger style trousers and a stunning selection of colours. The W123 range is known for the comfortable, durable and stretchy fabric. With a more gym-like fabric style, you can rely on W123 all day long.
WonderWORK 
Choose WonderWORK if you like: Scrub sets, variety, unisex options and reliability.
Our largest range on offer, with classic scrub sets, cargo styles and even a maternity range. You can find everything you need for a whole team. Affordable options with durable & comfortable fabric. Timeless and popular.
Renew
Roll with Renew if you prefer: Sustainability, style, simplicity, variety.
Renew your style with the sustainable WonderWink range. Innovative designs with modern and classic colours, you can find a flattering scrub set easily. The EZ top features a shoulder zip, allowing you to remove the scrub top hygienically.
WonderFLEX
Follow up with WonderFLEX if you like: Utility, colours, comfort, simplicity.
WonderFLEX features tons of useful pockets, cargo style durable trousers and a wide range of fun colours. Known for comfort, WonderFLEX gives you the push you need to get through long work days.
We hope you find the perfect scrub set for you, or your whole team. If you just fancy browsing, you can always shop all, shop by workplace, or shop by womens best sellers and shop by mens best sellers.
Happy scrub shopping!
Love, Kara x