Before ordering your personalised scrubs, please take a few moments to read the following information about the embroidery process. For embroidery orders there is a minimum order quantity of 4 garments in total.
Instructions
1. Tick the 'Personalise your uniform' checkbox on the product page and add the product to your cart. Checkout and pay as normal and email our Customer Services team with the details below.
a) Your name and your order number.
b) What text you would like embroidering. (Up to 3 lines of text, with maximum of 20 characters per line)
c) What colour of thread you would like to use. (Choose from the below options)
d) If you are having your logo embroidered, please also attach your logo image to the email. Accepted formats: JPG, PNG or PDF. Please note that you will need to provide the original image file – a screenshot or photo of the logo cannot be converted into an embroidery design.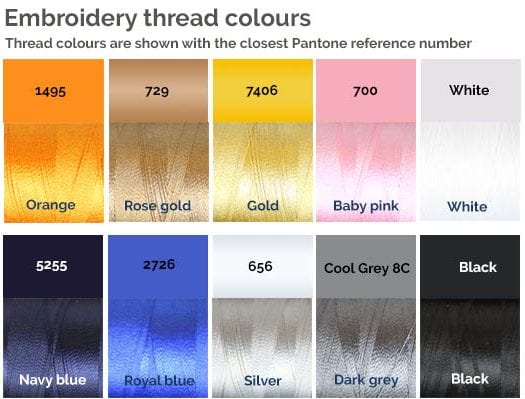 2. Once our team have received your message, you will be contacted to confirm the additional cost of the embroidery. Please refer to the embroidery costs below. Payment can be made by credit card or debit card via a secure payment link which will be sent to you.
3. Once your payment has been received, we will create a mock-up for your approval. Please approve the mock-up, then your items will be embroidered and sent to you.