Available in eight popular colours
Easycare polycotton
Machine washable at thermal disinfection temperatures
V neck top & straight leg scrub trousers
Scrub sets are pre-packed in sizes. If you prefer to order different size top and trousers please buy separates: NHS Essentials Scrub Tops & Trousers
Essentials Unisex Scrub Sets
Available in sizes
XS

-

3XL

BrandNHS Essentials SKUSS617

View size guide
NHS Essential scrub top - size in centimetres
| | | | | | | | | |
| --- | --- | --- | --- | --- | --- | --- | --- | --- |
| | XS | S | M | L | XL | XXL | 3XL | 4XL |
| A. Length (cm) | 70 | 71 | 71 | 72 | 74 | 77 | 81 | 84 |
| B. Chest circumference (cm) | 101 | 107 | 119 | 129 | 142 | 147 | 154 | 163 |
| C. Sleeve depth (cm) | 21 | 21 | 23 | 23 | 23 | 25 | 25 | 27 |
| D. Neck width (cm) | 13 | 15 | 16 | 18 | 21 | 24 | 25 | 25.5 |
| E & F. Neck length (cm) | 17 | 17.5 | 19 | 22 | 23 | 23 | 24.5 | 26 |
NHS Essential scrub trousers - size in centimetres
| | | | | | | | | |
| --- | --- | --- | --- | --- | --- | --- | --- | --- |
| | XS | S | M | L | XL | XXL | 3XL | 4XL |
| A. Waist circumference (cm) | 92 | 99 | 106 | 117 | 124 | 132 | 147 | 169 |
| B. Front rise (cm) | 38 | 38 | 39 | 39 | 39 | 41 | 43 | 47 |
| C. Inside leg length (cm) | 69 | 71 | 73 | 74 | 75 | 75 | 81 | 93 |
| D. Waist to ankle length (cm) | 104 | 108 | 109 | 111 | 112 | 114 | 122 | 135 |
| E. Thigh circumference | 56 | 56 | 64 | 68 | 72 | 76 | 82 | 92 |
How to take measurements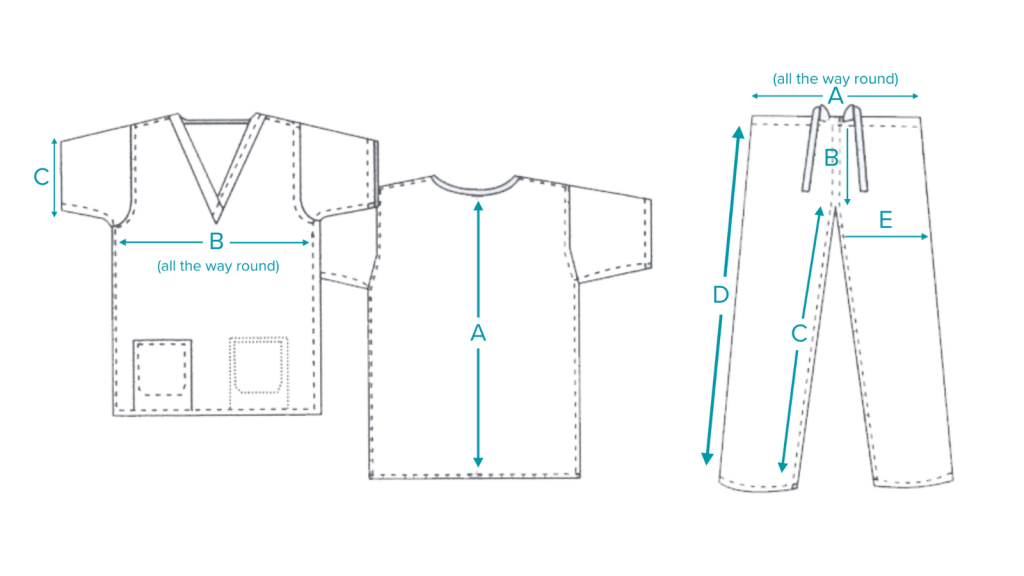 You may find this useful: How to take measurements for scrubs without a tape measure
The embroidery process
Due to the ongoing Covid-19 situation, we are sorry to let you know that we are unable to offer embroidery and personalisation at this time.
If you had already ordered embroidery on your scrub tops before the second period of lockdown in England (which started on 5 November), then our Customer Services team will have been in touch with you to discuss a refund for the cost of embroidery.
If you have any queries please firstly check to see if your question has been answered in the FAQs help area.
Then, if you can't find an answer there, please contact our Customer Services team.
Kara offer this National Health Service medical scrub suit in 8 popular colours. Made from durable polycotton.
Product Description
When only a durable scrub suit will do, the National Health Scrub sets are reliable, utilitarian medical scrub suit. As worn by NHS doctors and nurses across the country these less expensive medical scrub sets are perfectly practical, but lack the style and details of our other ranges. However, it is perfect when you're working in theatre and need to wash the uniform regularly. It is available in 8 colours and can be washed at the NHS-recommended 71 degrees for thermal disinfection. They are made from lightweight, easycare and comfortable polycotton.
The scrub top is reversible, with a hip pocket on both the inside and outside. The scrub trousers are also fully reversible with hidden stitching and a rear pocket on both sides of the fabric. Choose from 8 different colours, there's something for everyone. The different sizes are colour-coded, with an appropriately coloured tape sewn inside the neckline for speed of selecting the right size at the hospital. However, please note that the sizes tend to fit larger than our other styles, please refer to the Size Guide above.
You might like to layer up in colder weather by wearing the Essentials Warm Up Jacket on top of your scrub suit. Download data sheet (PDF)
Product code: SS617
Product Info
| | |
| --- | --- |
| Colours | Raspberry, Hunter Green, Mid Green, Navy, Cobalt, Mid Blue, Turquoise, Misty |
| Clothing Size | XS, S, M, L, XL, XXL, 3XL |
| Fibre composition | 65% Polyester & 35% Cotton |
| Fit | Relaxed |
| Gender | Female, Male, Unisex |
| Delivery time | 1-2 days Delivery |
| SKU | SS617 |
Washing & Fabric care
Hot wash, up to 71°C for thermal disinfection