WonderWORK Men's Sample Pack
BrandWonderWORK SKUKM507---------MISP64
View size guide
Sizes in inches
| | | | | | | | |
| --- | --- | --- | --- | --- | --- | --- | --- |
| | XS | S | M | L | XL | 2X | 3X |
| Chest | 33-35 | 36-38 | 39-41 | 42-44 | 45-48 | 49-52 | 53-56 |
| Waist | 24-26 | 27-29 | 30-32 | 33-35 | 36-39 | 40-43 | 44-47 |
| Hip | 33-35 | 36-38 | 39-41 | 42-44 | 45-48 | 49-52 | 53-56 |
Sizes in Centimetres (cm)
| | | | | | | | |
| --- | --- | --- | --- | --- | --- | --- | --- |
| | XS | S | M | L | XL | 2X | 3X |
| Chest | 84-89 | 90-97 | 98-105 | 106-113 | 114-123 | 124-133 | 134-143 |
| Waist | 61-67 | 68-74 | 75-82 | 83-90 | 91-100 | 101-110 | 111-120 |
| Hip | 84-89 | 90-97 | 98-105 | 106-113 | 114-123 | 124-133 | 134-143 |
How to make measurements
We recommend ordering Short for men up to 172cm, Regular for heights between 173cm and 182cm, and Tall if you are 183cm or taller.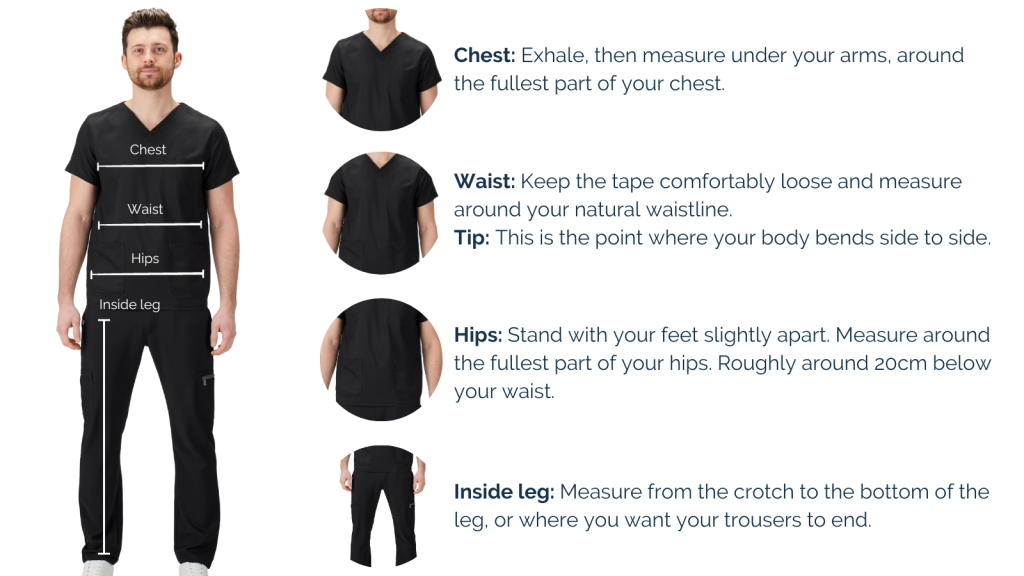 You may find this useful: How to take measurements for scrubs without a tape measure
The embroidery process
Due to the ongoing Covid-19 situation, we are sorry to let you know that we are unable to offer embroidery and personalisation at this time.
If you had already ordered embroidery on your scrub tops before the second period of lockdown in England (which started on 5 November), then our Customer Services team will have been in touch with you to discuss a refund for the cost of embroidery.
If you have any queries please firstly check to see if your question has been answered in the FAQs help area.
Then, if you can't find an answer there, please contact our Customer Services team.
Product Description
This pack contains 10 WonderWork mens products, in sizes XS, S, M, L and XL. Styles included: Mens V Neck Top and Cargo Trousers. Selection of popular colours included: Black, Pewter, Ceil Blue, Teal and Navy.