Four Stretch Womens Sporty V-Neck Scrub Top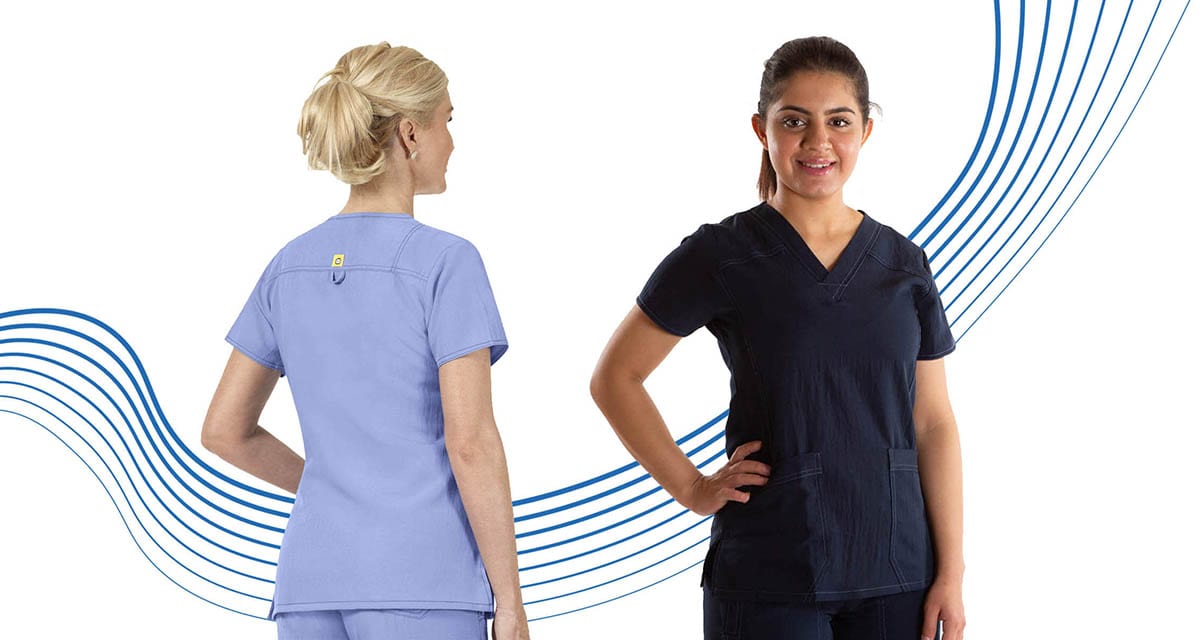 Looking for low maintenance womens scrub tops? The Four Stretch range from Wonderwink definitely ticks that box. For this month's product of the month, we wanted to highlight the features of these popular scrubs. Here are our top 3 features:
Pet hair resistant
Ideal for vets or any pet organisation that wear scrubs. We know how frustrating it can be trying to stay presentable when trying to dust off the excess pet hair! You just don't get that with the Four Stretch range.
No need to iron!
Being 100% polyester, they have a textured appearance. There's no need to iron, making those early starts or late nights preparing your scrubs a thing of the past.
Wash after wash
The 100% polyester fabric is created using a mechanical stretch yarn process specially engineered to exceed the performance and durability of other fabrics. This means you can wash these scrubs without worry.
In addition to our favourite features, the Four Stretch Women's Sporty V-Neck Top has all the essentials you'll ever need from your scrubs:
Flexible – Being four stretch makes them super comfortable to wear and aids movement.
Optimal storage – 2 front patch pockets, 1 hidden yellow mesh pocket on right and a tri-utility loop inside left pocket, along with a yellow bungee ID loop on right pocket
V neck fitting – more flattering and slimming fit for womens scrub tops
Moisture wicking – great for those busy shifts to help keep your cool
Colours – As with most of the WonderWink ranges, this popular version of womens scrub tops is available in over 20 colours
Don't just take our word for it, here's what other people think:
"I've been in healthcare for 14 years and have worn many different scrub brands and styles. Nothing can compare to the WonderWink scrubs! They are decent priced, good quality, comfortable, silky feeling, slightly stretchy, flattering, lightweight, but strong, with durable construction, colour fast/fade resistant, non-wrinkly, stain resistant, moisture-wicking, and quick drying. I absolutely love the number of pockets as well. They also stand up to the test of time. I purchased my first WonderWink outfit at a uniform sale at work about four years ago. They have been worn and washed weekly and show absolutely no sign of wear. The stitching remains intact, no areas of thinning fabric and the colour does not look faded at all! I would highly recommend this scrub brand!"
"Love love looove these scrubs! The top goes great with the same four stretch scrub bottoms and they are literally the only scrubs I'll ever buy. You can seriously wear these straight out of the dryer (even with them sitting there for a few days) because of their miracle fabric. On top of that, I have 3 dogs and can snuggle with them right up until I leave because dog hair does not stick to this…once again…MIRACLE fabric. The colours are rich and vibrant and never fade even after tons of washes. I seriously can't say enough good things about them!"