Interview With Yvette, Aesthetics Nurse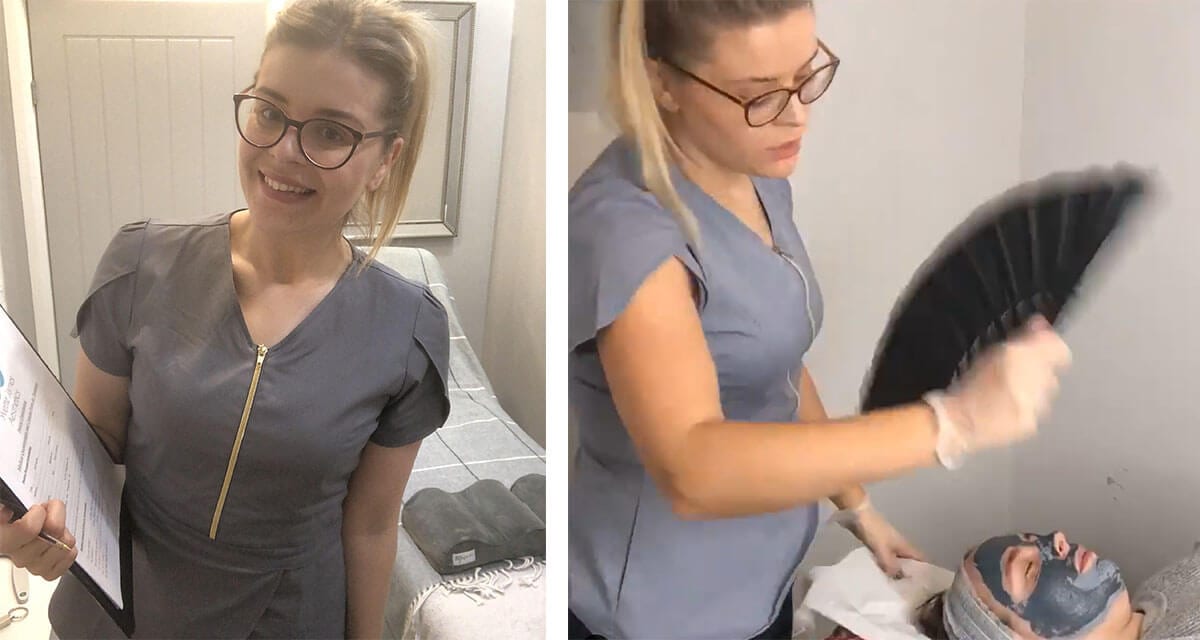 When did you start becoming interested in being an aesthetic nurse?
I have always had an interest in beauty and cosmetics. In 2016 I read an article online about the little regulation in aesthetics and was shocked to see that non medics were still by law allowed to carry out injectable treatments! The article was showing the importance of only medical professionals being able to carry out these injectable treatments. This is when I started thinking about becoming an aesthetic nurse, bringing my profession and my interest of beauty together.
I thought it would be an amazing feeling to be able to improve patient's confidence by providing safe, effective and evidence based treatments. I was driven even more so by the need of more regulation within this field in the UK. Therefore early 2017 after a lot of research into the best training academy in aesthetics and the highest level of training I could receive, I joined Harley academy in London on the Level 7 injectable medicine course and have not looked back since.
How did you transition from nursing into aesthetics and starting your own clinic?
Some aspects were easier than others! As a nurse, I look after patients and their families on a daily basis as well as liaise with multi-disciplinary team members so in the aesthetic nurse field that's just the same, although just down a slightly different path. It was valuable to have medical experience in order to consult my aesthetic clients and be able to determine whether it is safe for them to have treatment with specific past medical history. Without my medical background I do not feel it would be safe for me to inject peoples faces, and I feel me being a nurse has made the transition into aesthetics a lot easier!
After 5 months of training and mentoring by Harley Academy, I then felt confident to actually start treating clients and I started my own business running clinics a couple of times a month whilst working full time as a nurse in a specialist palliative hospice. I now work on the bank there as my business has rapidly grown faster than I imagined and am now running lots of clinics from 3 different locations each month.
How did you acquire clientele when you first started off?
I have to say, for me social media was my biggest platform with gaining clients when I first started out. Even to some extent now it is still important, as well as recommendations and word of mouth. I think having eye catching social media pages with your unique selling point clear is key to gain the right clientele.
What is the most rewarding part of your job?
This is a super easy question for me to answer: GIVING PEOPLE THEIR CONFIDENCE BACK! People come to me sometimes deflated about how they look, whether it be deep set wrinkles making them look much older than they are or their lips disappearing when they smile and having nothing to put their lipstick onto! To see my clients with a huge smile on their face when they walk out of my clinic is the reason why I love my job so much.
What is the most challenging part of your job?
It would probably be working for myself! I am used to working as part of a big team as a nurse usually, so working alone most of the time can be challenging. However, luckily for me I am a member of Harley Academy, British Association of Cosmetic Nurses (BACN) and the Aesthetic Complication Expert Group (ACE). Being a member within these organisations is great as they all provide invaluable support to medical aesthetic practitioners.
What's something people wouldn't know about being an aesthetics practitioner?
How important it is to know your facial anatomy! Some people just go to someone cheap for their dermal filler or anti wrinkle treatment. Chances are, they probably aren't appropriately trained on facial anatomy or complication management, may not be medically trained and may be using cheap imported products from non regulated sellers! So I feel it is so important to do your research before choosing an aesthetics practitioner!
How do you manage client expectations when it comes to certain procedures?
I am very honest with my clients and will never carry out a treatment if I do not see any indication for it! This has resulted in turning clients away! Some people come in showing me pictures of the lips or jawline they want, which most of the time is irrelevant as it is someone else's face! I explain everyone is individual, facial features are different on every client and I can enhance what they have, I cannot create someone else's lips or jawline on them! Also some clients expect to be able to create a certain look with 1ml of dermal filler, when in some areas they may need up to 5ml! so I always discuss realistic outcomes with all my clients.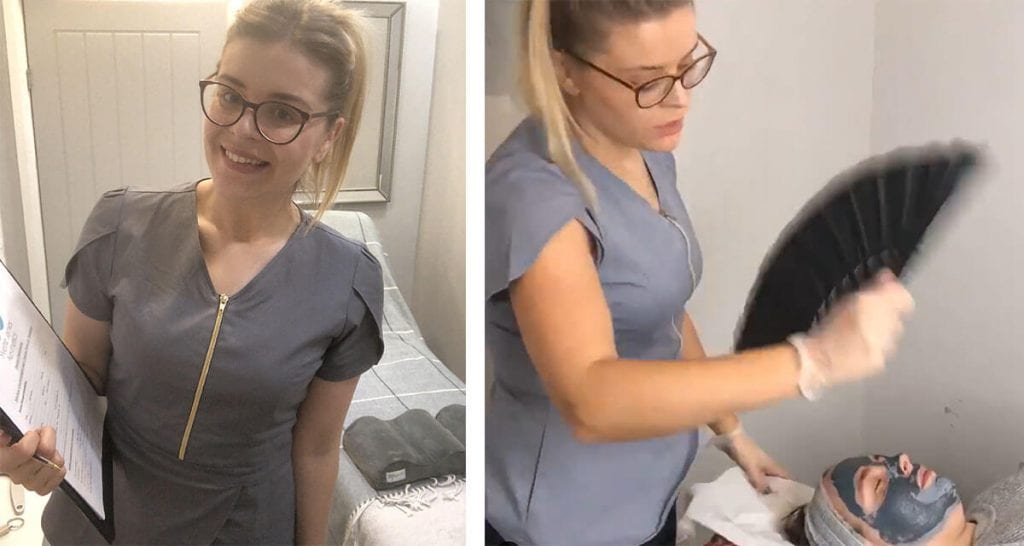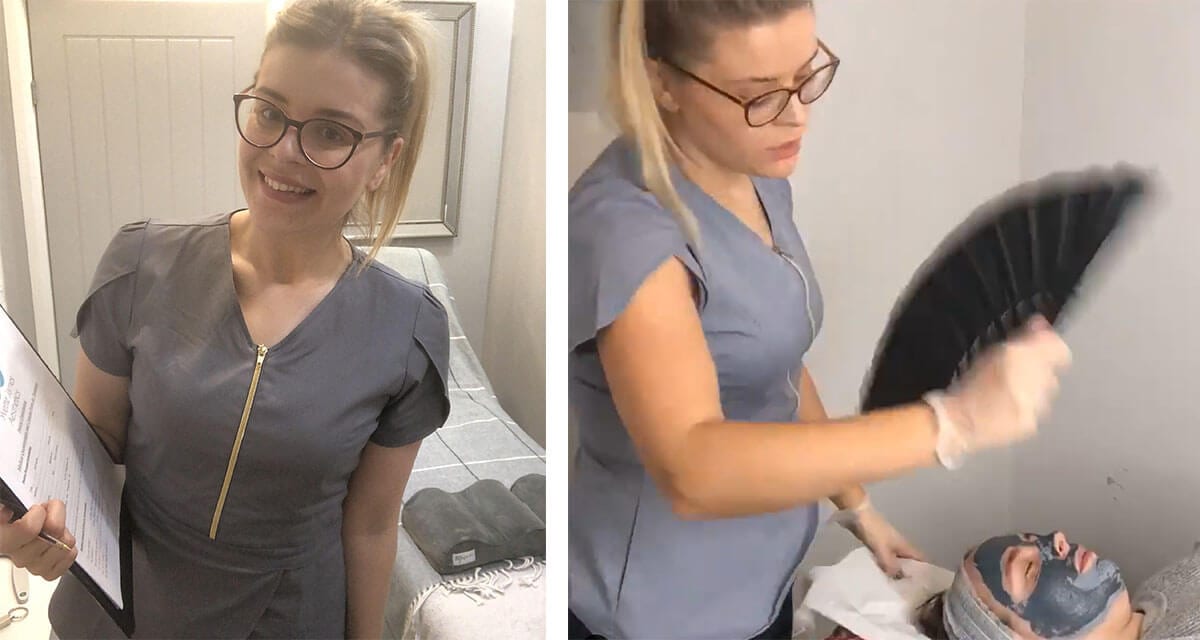 How important is having a good uniform for your job?
I have actually never worn a uniform for my aesthetic nurse work before, but after seeing the Kara Jaanuu scrubs I was hooked. I think now I appear much more professional to my clients in my medical scrub top and actually wish I had done it sooner.
What is your most popular treatment or procedure?
Lip filler treatment is 100% my most requested treatment, closely followed by anti wrinkle treatments. However jaw, chin and tear trough filler are also increasing as people want a much more defined jawline, better profile and non tired looking under eyes.
What advice would you give others considering this field of work?
The best advice I can give any medical professional considering going into the aesthetics field, is to not do a one or two day course. Level 7 at Harley Academy is a masters level qualification that provides initial training, student mentoring in a fully established clinic as well as amazing e-learning content that you can do in your own time.
I know for me and many others in the industry, a two day course would not have been enough for us to feel confident to start practising aesthetics competently and know how to deal with any possible complications. There really is so much to it that you cannot learn in two days.
What are your long term business goals?
I would eventually like to open my own aesthetics clinic, as currently I am mobile, working in different salons. I also would like to train in advanced skincare treatments such as chemical peels, microneedling and mesotheraoy to offer more treatments to my wonderful clients that will give them that wonderful glowy skin!
Follow Yvette on Instagram
Want to hear more from us?