Our favourite jogger scrub sets you'll love this summer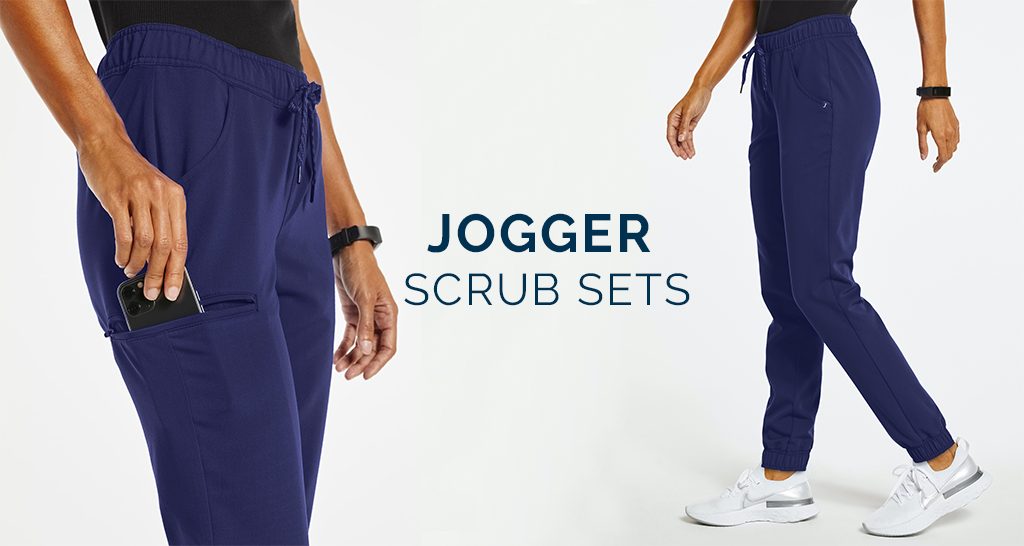 Jogger scrub sets are so on-trend right now for all industries including dental, vets, medical and beauty. This style of clothing was initially designed for sports, however, they have evolved over the years to become a staple fix in our leisurewear, loungewear and most importantly; workwear for all shapes and sizes.
Jogger pants incorporate elasticity at the waist and around the ankles which makes them super flexible and comfortable. Some people are known to roll their jogger pants up to their knees on a hot day to help keep them cool!
The tapered ankle on joggers is perfect to help you work freely without any disturbance when you move – sometimes with a standard leg they can catch on your footwear.
As well as comfort, the style of a jogger scrub set can complement your body shape and draw your eye to the slimmer areas of your body including waistline and ankles – they really are a great style to boost your body confidence.
Our ever-popular jogger scrub sets are available for men and women, here are some of our favourites:
W123 Men's Cargo Jogger Trousers & V- Neck Top
Using a premium 4-way stretch fabric, this jogger scrub set is ideal if you're very active at work. With plenty of pockets and storage, this material is also pet hair resistant – winner!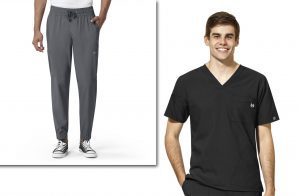 Click here to view the men's jogger scrub sets in W123
Jaanuu Men's Professional Jogger Trousers & V-Neck Raglan Top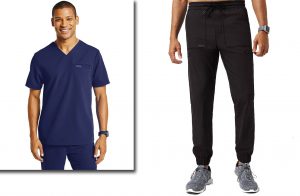 Athletic style, yet fully functional. These premium 4-way stretch scrubs are moisture-wicking, fade-resistant and wrinkle-resistant.
Click here to view the men's Jaanuu jogger scrub sets
Jaanuu Women's 5 Pocket Jogger & Tulip Top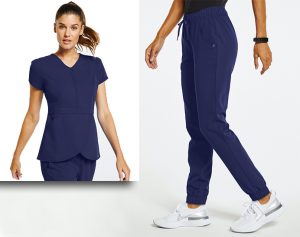 One of the comfiest scrub sets we offer which look amazing! Featuring a 4-way stretch material that is wrinkle and fade-resistant. In addition, these scrubs are treated with an antimicrobial finish.
Shop the Jaanuu jogger scrub sets here
W123 Women's Cargo Jogger Trousers & Stylized V-Neck Top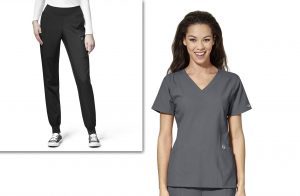 Beautiful, durable material with a four-way stretch fabric that is fade-proof, shrink-proof and wrinkle-resistant.
Shop the W123 jogger scrub set range here
WonderFLEX Women's Utility Cargo Jogger Trousers & Curved Notch Neck Top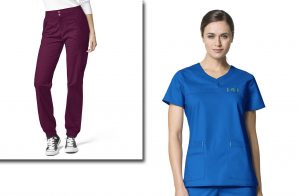 Using a blend of polycotton motion-stretch fabric, this range is comfortable, easy to wash and easy to iron.
Shop the WonderFLEX jogger scrub set range here
Want to hear more from us?
Try Behind the scenes at our latest work scrubs UK video & photoshoot, Choosing the best Pewter scrubs, How to stay warm this Autumn