Wonderwink Base Layer Tops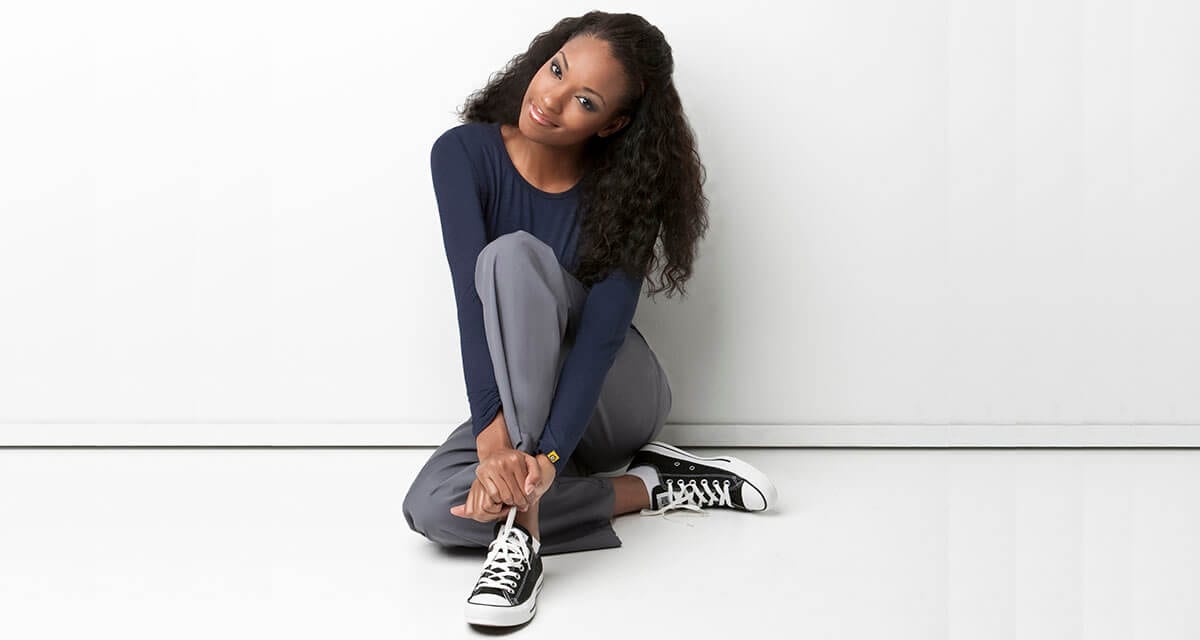 The cooler weather is now closing in and now those warm sticky months of summer have become a distant memory.
Not all of us like the cold weather and the best way to keep our spirits up during these cooler months is to stay warm. With proper attire you can do just that. How do you dress for work during the cooler months?
Often, it can seem daunting giving your work wardrobe an overhaul to meet the demands of a change in season but all it needs is a little bit of creative thinking.
Additionally, at this time of the year in particular it may be that you've dressed for a chilly morning, only to find that the unpredictable British weather has turned out to be unexpectedly mild. How do you prepare for this?
Layers – we love layers!
Layers are key to keeping warm when on nippier days. They provide that additional warmth where needed and if chosen correctly, aren't too bulky.
Another benefit of a layer is that if the weather takes a turn during work, you can always remove your base layer to prevent overheating, and layer up if the weather unexpectedly cools.
Wearing the right kind of base layer tops is the best way to beat the colder temperatures too, so something like a cotton layer will hold on to moisture. Any type of thin, easy to dry fabric such as a synthetic wicking fabric is ideal as it draws the moisture away rather than trapping it inside.
WonderWink Base Layers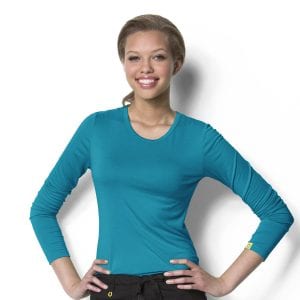 Our WonderWink Base Layer Tops are the perfect answer to layering up whilst remaining soft, silky and comfortable. Constructed from a premium fabric blend of viscose and spandex, WonderWink Base Layers provide a breathable layer for extra warmth.
WonderWink Base Layers are available in 18 colours – you can mix and match these tops according to your scrubs.
The WonderWink Base layers range is available with both short sleeved and long sleeved options providing you many choices. Each style comes with a v neck fit for comfort.
On the bottom
A great way to keep warm is thermal underwear or a pair of compression stockings to wear underneath your scrub pants without adding too much bulk. Also an extra pair of socks can come in handy when temperatures drop.
Travelling to work
Make sure you're prepared on your commute too, a warm scarf, gloves and a decent pair of shoes that will put up with the stormy and wintery weather ahead.
If you're travelling by car, keep it stocked with the right items to get you to your destination on time. A blanket, extra jacket, gloves and socks are a good start. Hand warming packets and de-icer spray are great additions for those icy mornings.
Fingers crossed the weather is kind to us this winter and here's to a good summer to look forward to in 2020!
Want to hear more from us?
Try Wonderwink W123 range, Can you wash scrubs?, Interview with vet of the year 2019, Wonderwink womens mock wrap top